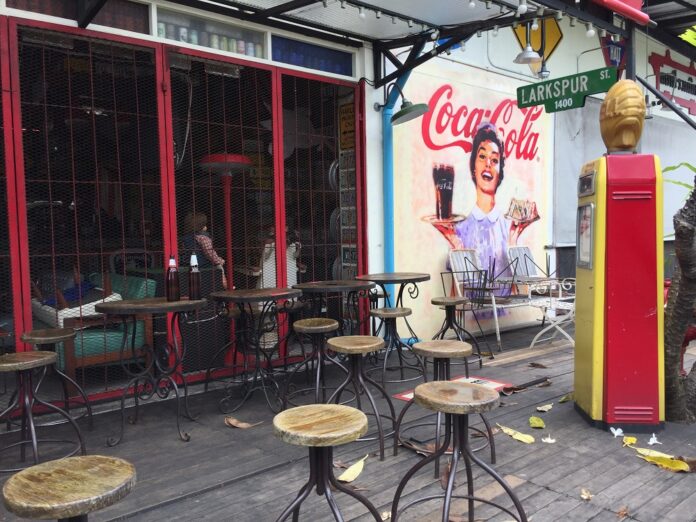 BANGKOK — A woman in her 50s sat Friday in front the restaurant where she's sold khao tom for seven years in a popular Bangkok night market. Not so far were piled boxes and bags of ingredients she didn't know what to do with.
Charinthip Nakmanee, or as customers call her, Pa Au, is among hundreds of vendors who still hoped to make a living for at least another month at JJ Green Market in the Chatuchak district.
When they arrived today – Friday is one of the market's busiest nights – the entrance was barricaded with at least a dozen officers guarding it.
"I want clarity," Charinthip said. Behind her is the kitchen where she cooks dishes from boiled rice with seafood to pad kee mao.
After JJ Green Market's contract expired last month, authorities gave it a one-month extension and said vendors had until Sept. 12 to leave. However, the market's management company, V Multimedia, spread the word that they could stay until Oct. 13.
Read: JJ Green Market to Stay Open Until Oct. 12: Legal Rep
This confused the sellers such as Charinthip, who pays 7,000 baht per month for her small restaurant's space. While some had already emptied out their shops, others remained behind, waiting for official word on whether they must leave now or next month.
Signaling that they weren't ready to throw in the towel, the market's management announced late Friday afternoon it was "temporarily closed" until Sunday due to "[trouble] with the order."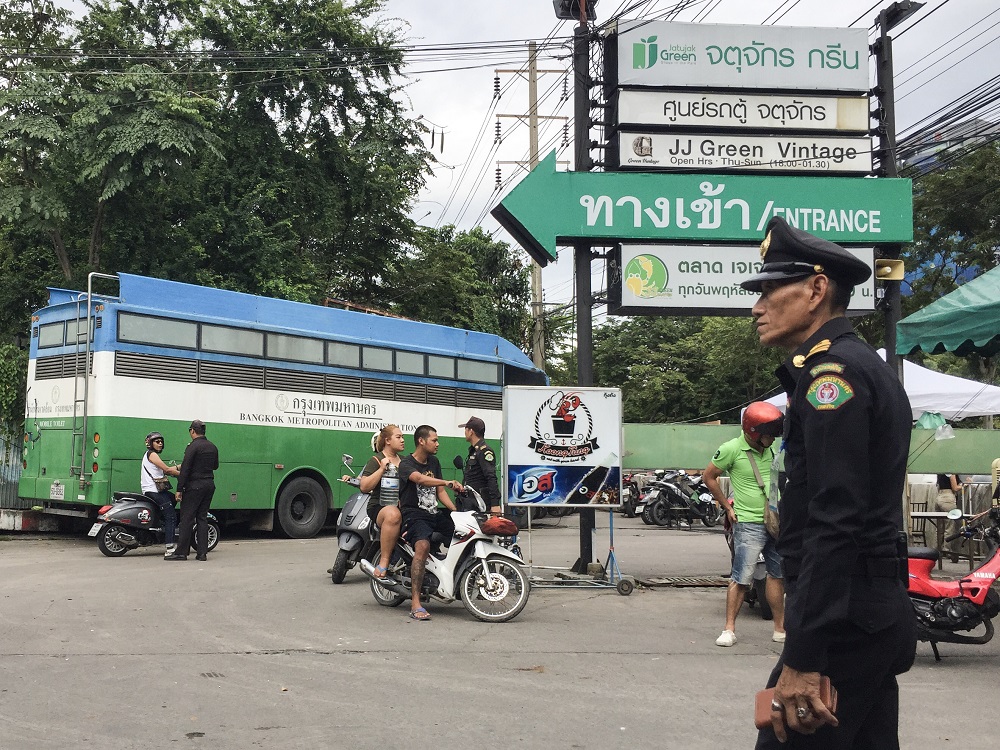 The barriers at the gate went up Thursday after City Hall's deadline passed, with at least a dozen police and code officers checking visitors and vehicles at the gate. Only vendors were allowed in on the condition they sign in and had over their IDs.
Today officials with the Bangkok Metropolitan Administration had a new deadline: Every vendor must be out by Sunday.
"We've compromised for a month already," said a city official who wouldn't give his name because he was told not to speak to the media. "Definitely there will be no more market here."
An employee inside JJ Green's management office declined to answer questions.
City Hall's Natthanan Kanlayasiri said that the vendors were given notice in August, but since they failed to move out by the deadline, the blockade had to be put up.
"[We'll] continue the blockade like this until all of them move out. This could take a month," Natthanan said.
Asked about the conflicting deadline given by the management company, Natthanan said, "They gave that news arbitrarily" and insisted all the vendors must move out by Sunday.
The 21-rai (3.1-hectare) space used by the market since 2011 will be returned to the Queen Sirikit Park Foundation for construction of a much larger park to combine Wachirabenchathat (Suan Rodfai), Queen Sirikit and Chatuchak parks.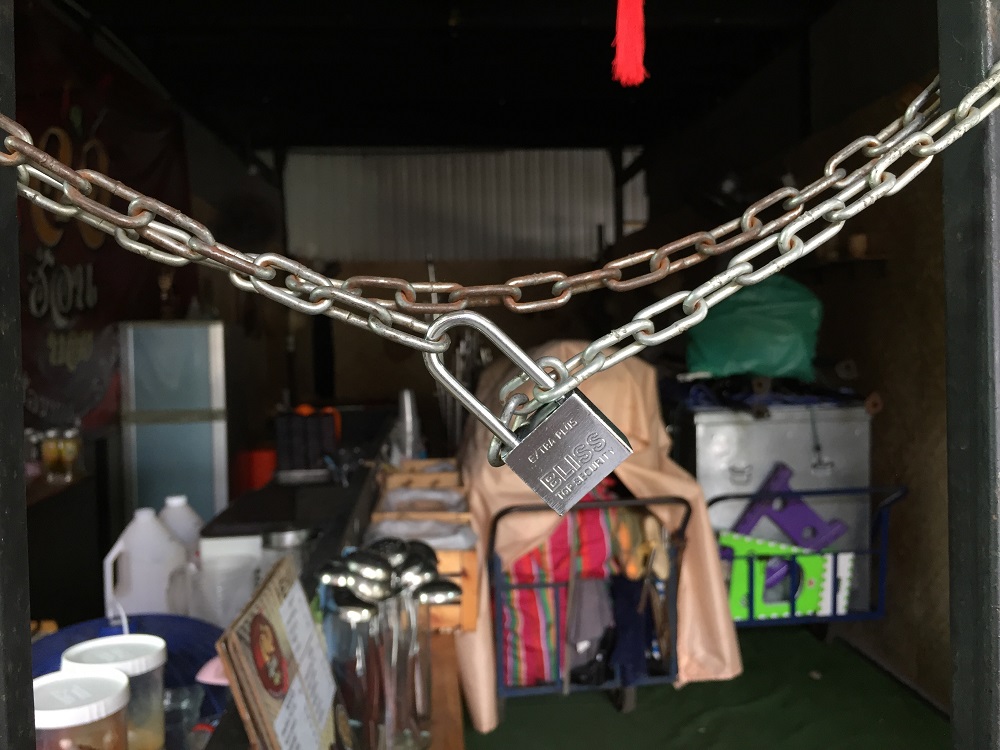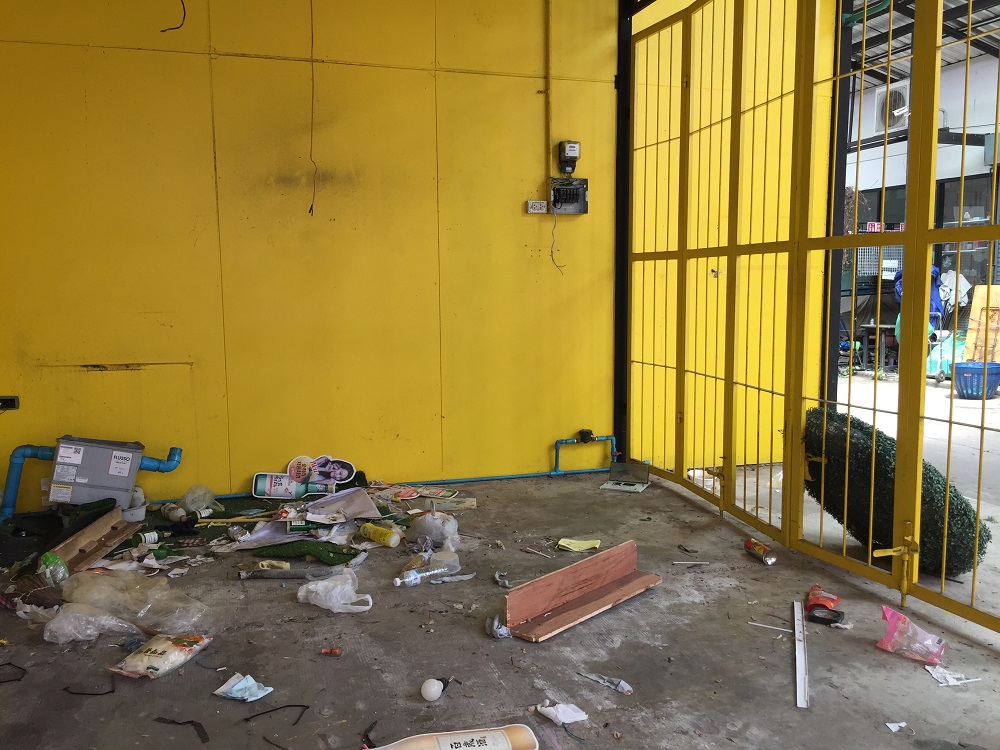 Related stories:
JJ Green Market to Stay Open Until Oct. 12: Legal Rep