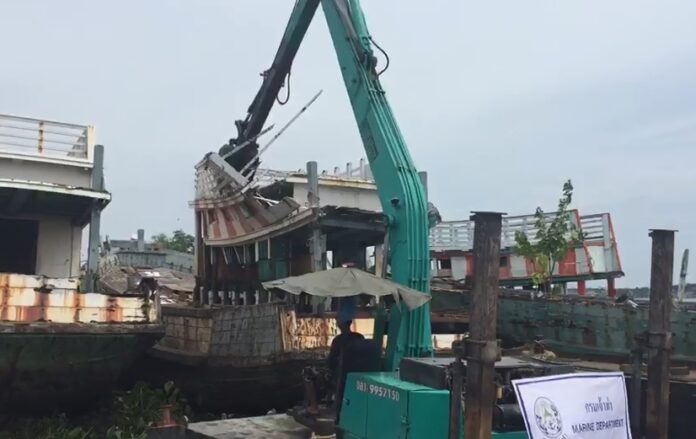 SAMUT SAKHON — Substandard fishing vessels were destroyed Wednesday in Samut Sakhon province before EU monitors arrive later this month to perform another assessment on the Thai fishing industry.
Nine old vessels, a fraction of the 860 awaiting demolition, were dismantled to promote government efforts to reform the industry, which has been slammed internationally for its slave-like working conditions. The ceremony was witnessed by ambassadors from 20 countries including the United States, as well as EU and ASEAN member states.
"Solving illegal fishing in Thailand has made more progress and achievements," said Gen. Chatchai Sarikulya, the deputy prime minister overseeing the event. "The government has been able to manage the whole system of Thai fishing boats. It's the first time in the history that the image of Thai fisheries has been turned positive to the world."
Chatchai said almost 11,000 fishing vessels have met the standards of the Marine Department, while more than 6,300 have been permanently banned from Thai ports.
In recent years, the government has stepped up its efforts to tackle long-standing problems in the fishing industry by introducing various new regulations. It came after the EU in 2015 condemned the industry and threatened to ban Thai seafood if practices didn't change.
Today, Steve Trent of the Environmental Justice Foundation, a London-based organization advocating for environmental security and sustainability, met deputy junta chief Gen. Prawit Wongsuwan and various ministers to discuss the progress made.
The campaign has not gone over well in Thailand's many ports and fishing communities.
In April, Pattani fishermen went on a strike over new laws aiming to crack down labor abuses. Early last month, Thai fishermen threatened a nationwide strike over the regulations, including a push to satisfy UN labor conventions by refitting boats to be safer and more hygienic. Thai fishermen said complying would severely damage the industry.
They also demanded the government solve a labor scarcity by allowing them to hire stateless and undocumented foreign workers. They want compensation for vessels that lost their operating licenses.
Defense Ministry spokesman Lt. Gen. Kongcheep Tantravanich said owners of unlicensed boats that fail to report to the authorities face jail time and steep fines as well as a 10-year ban.
Addressing the shortage in labor, he said more workers from Myanmar will be registered to the fishing industry ahead of the new EU assessment set for the coming weeks, which the government hopes will lead to the EU withdrawing its "yellow card" warning over Thai fishing practices.
In May, EU officials credited Thailand for making progress but said it had not gone far enough.
"If we don't fix the problems and let fishing activities goes on unregulated, such as trespassing international waters, Thailand will be at risk of receiving a red card, leading to sanctions on our seafood exports to Europe worth more than 30 billion baht annually," Kongcheep said.
Thailand is the world's third largest seafood exporter. In 2016, it sent 220 billion baht worth overseas, 20 billion of which went to Europe.
Related stories:
Thai Fishermen Call Off Strike, For Now
Fishermen Threaten Strike Over New Regulations