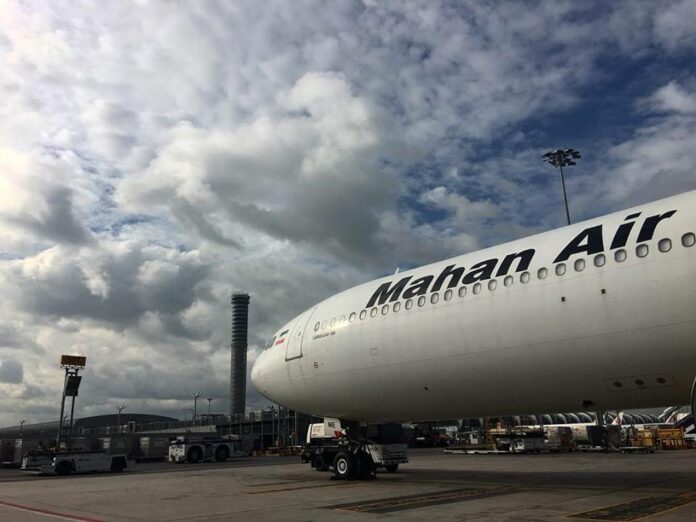 BANGKOK — Little is known about a Thai company the US government announced rare sanctions against late Friday night for servicing an Iranian airline accused of aiding terrorist groups.
My Aviation Co. Ltd. appears to be one of many small players in Thai aviation, operating as an airline sales agent. Lacking even a company website, its name might have remained off the radar if not for serious accusations from the US Treasury.
Read: US Accuses Thai Company of Aiding Terror-Linked Iran Airline
Calls to the office Saturday afternoon went unanswered. Kosol Surinandha, who is identified on LinkedIn as managing director of the company, did not reply to emailed inquiries as of publication time. The Thai government has yet to issue any statement regarding the sanctions.
Business databases online list the company as being founded in 2008 with an office in the Silom area, a major business hub in Bangkok.
Little other information could be found, but the details are in line with reports about it in an outlet called Muslim Thaipost several years ago.
In May 2011, it reported the official opening of a new office for a joint venture between Mahan Air and My Aviation, a ceremony attended by the former Iranian Ambassador and Civil Aviation Authority director.
Mahan Air, a private Iranian airline, has been sanctioned by the US authorities on many grounds, including allegedly supplying "material" to the Syrian government of Bashar al-Assad and transporting weapons for Hezbollah and Iran's Revolutionary Guards.
The primary US concern seems to be with Mahan, with My Aviation being targeted for providing it with services. The Treasury statement said it froze the assets of a Malaysian travel company called Mihan Travel & Tourism in July for the same reason.
My Aviation was accused for indirectly supporting terrorism by providing "cargo services to Mahan Air, to include freight booking," which the Treasury Department said violates US law, including an executive order signed days after the 9/11 attack. Its assets in the United States therefore were blocked and Americans are barred from doing business with it.
In a 2012 interview, Kosol told Muslim Thaipost that his company was in charge of managing marketing affairs in Thailand for Mahan Air which "is not familiar with the Asian markets," and said his team was able to increase Mahan Air flights between Tehran to Thailand from two to 13 per week.
He added in the interview that his company would help boost Iranian tourism and trade industry in Thailand.
Mahan Air's website now lists six weekly flights to Bangkok and seasonal flights to Phuket.