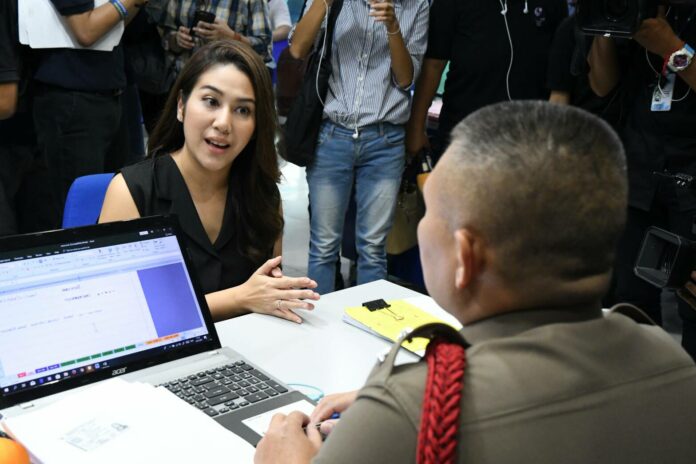 BANGKOK — Police on Thursday said the construction company responsible for a crane that collapsed and injured three will seek to avoid criminal liability by privately settling with the victims tomorrow.
After several victims accused the contractor behind last week's accident of dodging responsibility, police said they should seek compensation from the company's insurer Friday at the local police station. An investigator said they haven't been able to file any charges yet, nearly a week after the accident.
Read: Builder Faces Charges Over Silom Crane Collapse
"Many victims have come forward since the accident," Capt. Mongkol Praisoon said. "We still can't file any charges because we're waiting for medical reports of those injured to see how serious their condition was."
"As for compensation, that will be the responsibility of the insurance company," he added
The crane fell Friday morning at the site where an apartment complex is being built in the middle of Sala Daeng Road. Three people were injured. It also caused several million baht in damage to a number of utility poles, trees, cars, nearby buildings and sidewalks.
A 60-year-old woman was said to be seriously injured after the crane crushed her passing car while a pedestrian and motorcycle taxi driver were slightly injured.
The crane operator, originally identified as Burmese and now said to be Cambodian, as well as the site's head engineer are the main targets of the investigation, but Mongkol said both are on the run.
"We're looking into whether he has fled the country or not," he said of the operator.
He added that investigators are also waiting for official statements from expert engineers who have been probing the cause of the accident. The preliminary results suggest the 27-meter crane was too heavy for the base it was secured to, which was found ripped apart.
On Wednesday, a group of victims filed complaints against Kiatprasert Marketing with Thung Maha Mek police, saying the firm had not contacted them to offer any compensation.
Among them was actor Tarinda Kanasoot, who said her car was damaged by falling debris from a building the crane crashed into. She said it nearly broke through the wall of her bedroom across the road.
Tarinda told reporters that someone at the insurance company said it would pay for damage to her car but wouldn't promise to cover other damages. She was also told that the insurance policy would cover a maximum of 5 million baht in total damages, though she believes the costs could run much higher.
"We have no idea what's going on now with the construction and are living in fear," she said. "None of the authorities has suggested what to do, so we have to take action by ourselves."
Related stories:
Builder Faces Charges Over Silom Crane Collapse