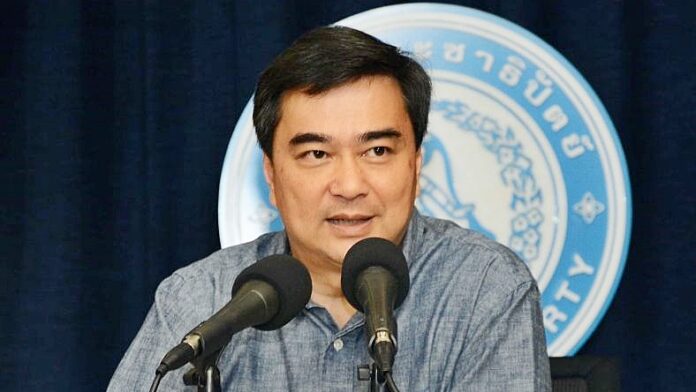 BANGKOK — Abhisit Vejjajiva won praise from his Pheu Thai rival Thursday after he resigned from his post as chairman of the Democrat Party.
Abhisit said he stepped down to make way for the upcoming vote on its top leadership seat, which three people are now contending. Former Pheu Thai MP Watana Muangsook said Abhisit set an admirable precedent and urged the military junta to do the same.
"This is a show of political spirit," Watana, who often lashes out at the regime and Democrat Party, wrote online. "Even though there is no rule requiring him to do so, he came to realize on his own volition that keeping the post would cause unfairness … I wish him best of luck."
He contrasted Abhisit's resignation with four ministers under junta chairman Prayuth Chan-ocha who refused to quit despite their recent foray into politics.
"It's different to behavior of NCPO's government who exploits the advantage they gained from the coup to advance the interest of their own people," Watana wrote.
Abhisit is defending his seat from two challengers: Warong Dechgitvigrom and Alongkorn Pollabutr. Other potential contenders have until Oct. 8 to apply for the race. The vote itself has yet to be scheduled.
Deputy Democrat chairman Jurin Laksanavisit was appointed interim party leader in the meantime.
Related stories:
Democrats Announce Party Membership Registration