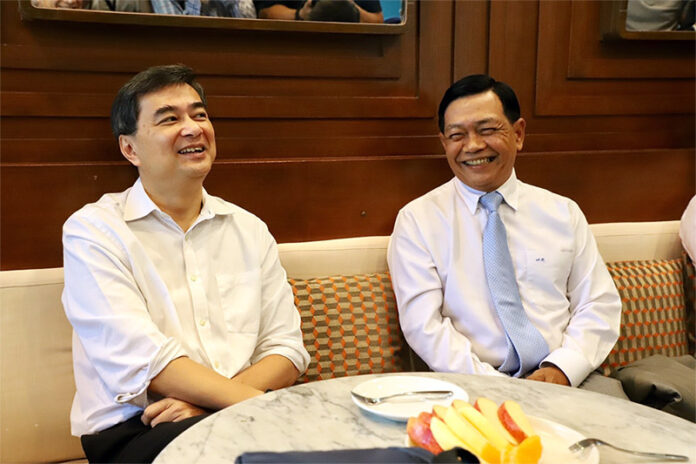 BANGKOK — The Democrat Party announced Tuesday that it would accept member registrations through Oct. 15 and that those registered would have the right to participate in a primary vote to select its new leader.
The announcement was made on the party's Facebook page along with the names of three candidates for party leadership: incumbent Abhisit Vejjajiva, Alongkorn Pollabutr and Warong Dechgitvigrom.
The announcement said aspiring members can register in person or online, by visiting the party headquarters in Bangkok's Phaya Thai district or any of the party's 350 branches nationwide. It added that those interested can also register online.
Warong, a candidate and former Democrat MP for Phitsanulok province, said Tuesday that the party would attract more members if he becomes leader. He complained that the e-registration system was "difficult," adding that paying membership fee online was also difficult.
The candidate acknowledged trailing Abhisit – a former prime minister and party leader for the past 13 years. Warong said some ex-MPs who have fled the party told him they would return if he became party leader and that he vowed to decentralize the party's power if elected.
He denied that his goal was to take over the party and use it to support junta leader Gen. Prayuth Chan-ocha in becoming prime minister again, adding that it's too early to commit on the issue.
He added that it's more important to think about what people will gain from the government after elections.