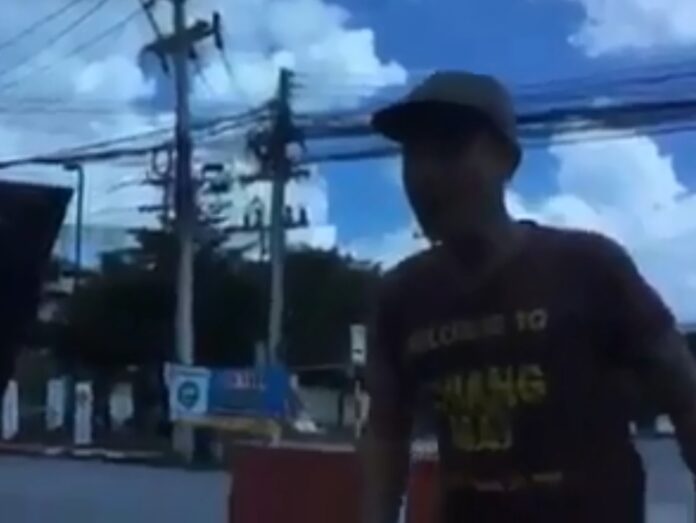 CHIANG MAI — Police on Tuesday arrested a tuk-tuk driver filmed berating and kicking a GrabCar driver in front of two foreign tourists in the northern city of Chiang Mai.
Rungruj Jinaruen, 37, was charged with various offenses, including intimidation, carrying of weapons and driving a tuk-tuk without license. Rungruj was also identified as the man who was arrested for giving a middle finger to another motorist last year.
"I arrested him myself in that case," Deputy Chiang Mai police chief Piyapan Pattarapongsin said in an interview. He said police would recommend a harsh penalty to the court because Runruj is a repeat offender.
In a video that went viral on social media, Rungruj blocks a GrabCar driver and orders him and two passengers, said to be Americans, leave the vehicle. He said the driver does not have a license to operate public transport.
"You get out right now!" Rungruj, wearing a "Welcome to Chiang Mai" shirt, shouts to the driver before kicking him. "These are my customers!"
"Oh God," one of the tourists can be heard in the video. The pair were eventually forced out.
Speaking to reporters at police station today, Rungruj apologized for his actions and said he's frustrated with the rise of unlicensed vehicles that steal passengers from him and fellow tuk-tuk drivers.
Lt. Col. Piyapan said Rungruj was carrying a wooden stick as a weapon at the time. Despite the kick, police did not press assault charges against the tuk-tuk driver, Piyapan said.
He added that transport officials suspended Rungruj's driving license earlier today, while the GrabCar driver has been charged with driving without proper license.
Tensions between state-regulated taxis and private ride-hailing applications such as GrabCar have risen in recent years. Confrontations have sometimes flared up in the streets.
On the same day Rungruj surrendered to police, about 60 tuk-tuk drivers staged a protest in front of the provincial Land Transport Department office, demanding a tougher crackdown on GrabCar operations. They dispersed after rallying for 10 minutes.
Related stories: 
Grab Must Stand Down to End Taxi Wars: Military
Moto Rally: Riders Demand Grab Play by the Rules
Military Urges Motosai to Register with App – Any App