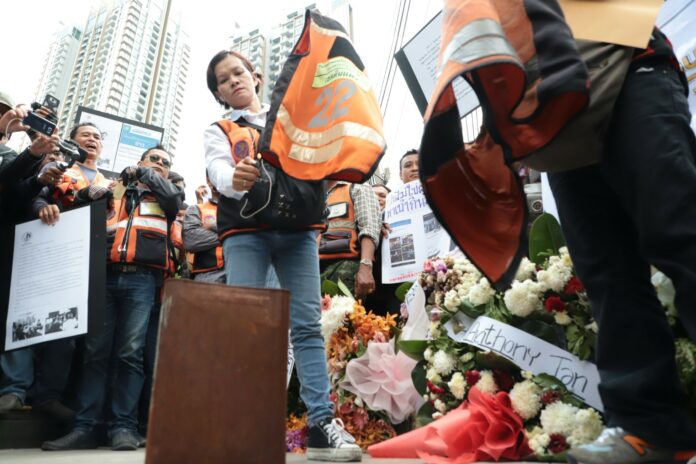 BANGKOK — A military unit overseeing motorcycle taxi services will encourage riders to register with private ride-hailing applications to ease conflict while new rules are being written.
Responding to growing anger which led to a recent mass protest of win motosai at the headquarters of Grab, the largest such service, Maj. Gen. Piyapong Klinpan said the 11th Army Military Circle will meet Thursday with motorcycle taxi representatives, application service providers and other related officials to find a solution.
"The problem is people are sick of motorcycle taxis and turn to the GrabBike application for an alternative," he said. "Riders from the application coming to the win's area upsets them and leads to fighting."
He said the unit supports the idea of win registering with any ride hailing service, whether Grab, GoBike or Banana Bike, provided they cooperate with transportation regulations. Piyapong added that lawful solutions are needed "to provide the most convenient variety of service options to the people."
Earlier this month, the special military unit responsible for national security matters stepped in to mediate the war for customers between traditional providers and Grab as complaints about street brawls poured in. It said the company agreed to pull unlicensed vehicles while the transport department drafts new rules that support application-based services.
Win currently cannot pick up customers outside their registered areas, while GrabBike riders go anywhere for fares.
Hundreds of win riders held a rally to Grab main office on May 17 in hope of pressuring the company to shut down unregistered taxis.
Related Stories:
Moto Rally: Riders Demand Grab Play by the Rules