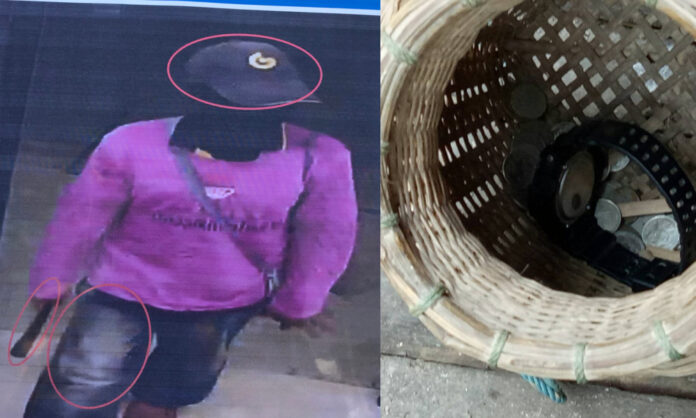 UDON THANI — With a fish trap over one arm, machete in hand, and balaclava over his face, a man robbed four spots within one week – until police arrested him Sunday.
Authorities arrested Payon Kamsem last night and charged him with robbery after naming him the sole suspect in four robberies in Udon Thani province, mostly at convenience stores.
Payon was found in possession of a motorbike, camouflage trousers, a black balaclava, two caps, a fishing trap, two machetes and coins worth 29 baht.
Col. Phumwit Vejkarma, chief of Udon Thani police, said the first robbery occurred Sept. 26 at a 7-Eleven. The 39-year-old man was carrying a knife and slung a fish trap over his arm. He ran away with ฿7,400 in cash.
Police said a man with the same costume committed the next three crimes in other locations. The owner of a chopping board shop said he was robbed Sept. 29 by a man wielding a knife and fish trap, adding that he escaped with 600 baht.
Early morning on Oct. 1, the same suspect allegedly robbed two stores: first a 7-Eleven and then a Tesco Lotus Express.
Police said Payon confessed to all four incidents. They added that the building contractor said he had financial difficulties which pressured him into committing the crimes.
Payon allegedly told police he could not afford a gun for the robberies and so used a knife instead. Police said he used the trap to disguise himself by tricking people into thinking he went fish at night.
If found guilty, he faces a maximum of 5 years in prison and / or a ฿10,000 fine.