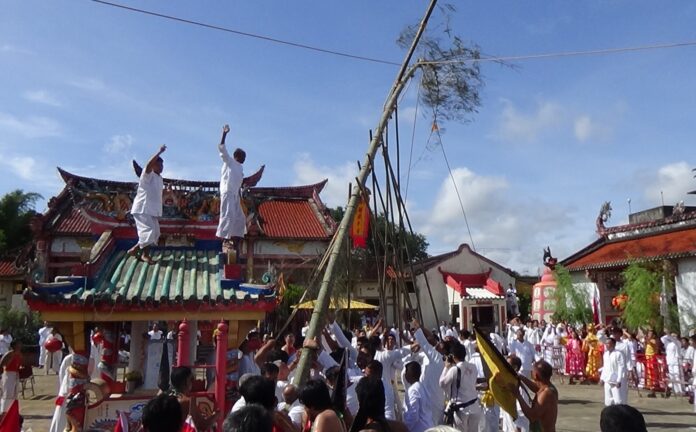 BANGKOK — The purifying rituals and ear-piercing celebrations of the Vegetarian Festival are set to return in full glory this year throughout Thailand.
After having to tone down for King Bhumibol's death in 2016 and his funerary rites in 2017, the first stage of Tesagarn Kin Jae kicked off today in major Sino-Thai communities such as those in Phuket, where the nine-day festival is expected to generate 14 billion baht in cash.
At Zhou Shi Kong Shrine in Bangkok's Chinatown, a dragon dance was performed to herald the first day of the Jae festival, while believers in Phuket flocked to Jui Tui Shrine to put gold papers on its sacred pole.
In restaurants and food stalls countrywide, vendors started selling dishes cooked in compliance with Jae beliefs: no use of meat or animal products.
Naturally, vegetable prices have risen. Lettuce sold at 10 baht more per kilogram, and mushrooms cost 10-20 baht more.
Originally rooted in the Taoist tradition of the Nine Emperor Gods Festival, Jae observers believe refraining from meat will purify their bodies and souls. The festival runs through Oct. 17.