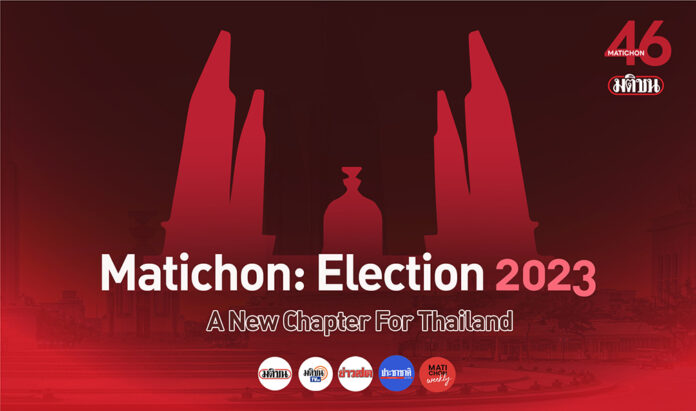 Matichon Group will hold five forums and operate ten strategies with its various partners to offer comprehensive coverage of the upcoming general election 2023.
The group, which includes Matichon newspaper, Matichon TV, Matichon Weekender, Prachachat business news, Khaosod Thai and Khaosod English, will partner with five organizations to offer in depth and comprehensive election coverage.
The partners are: Thailand Development and Research Institute (TDRI), Thammasat University's Pridi Banomyong International College, Institute of Politics and Policy Analysis, MFEC, a leading tech company, and Matichon Information Centre.
Details of the activities will be formally announced at a press conference on Thursday, Feb 23, at the ground floor of Matichon Building at 10.30 a.m. to 11.45 a.m. which can be followed through the group's various media including a live coverage in English on Khaosod English.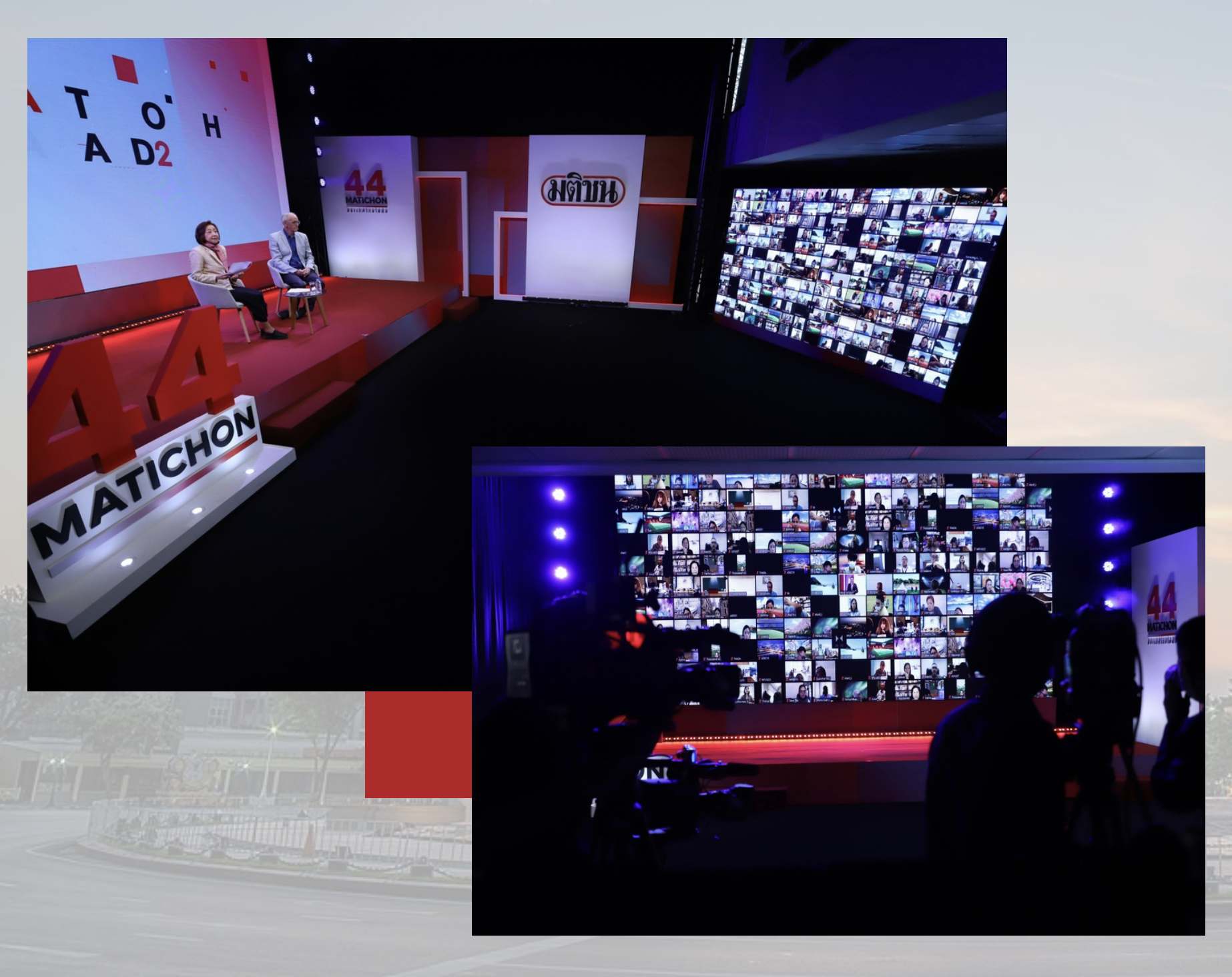 The press conference entitled "Election 2023 A New Chapter for Thailand" will hear Prab Boonpan, Matichon Deputy MD for Digital Media and Technology discuss the activities together with TDRI Chairman Somkiat Tangkitvanich, President/CEO, Mfec PCL Siriwat Vongjarukorn, Assoc Prof Dr Tanaporn Sriyakoon, director of the Institute of Politics and Policy Analysis and Asst Prof Akarapong Kamkoon, Dean of Pridi Banomyong International College.
On the same day, a special talks will be delivered by writer Sorakol Adulyanond, aka
Num Muangchan and Thammasat law lecturer Parinya Thewanaruemitkun on the topic "Election 2023 Analysis: Thailand's Future".
As for the five forums and platforms to be followed in the weeks ahead, they are:
1) Election Policies Forum. Major parties will be invited by Matichon to sell their policies on March 13 in a forum moderated by Thai Politics Group at Pullman King Power Hotel (Soi Rang Nam).
2) Election 2023 In Depth. Matichon TV will decode the upcoming election by discussing the issue with leading political scientists Tanaporn Sriyakoon and Dr Satithorn Thananitichote of King Prajadhipok Institute. The event will be made available through Matichon Live Streaming on March 20.
3) On March 31 at Thammasat University's Minor Conference Hall, Khaosod will host a forum for young Thais to express their political aspirations and expectations. New generation of politicians will also be invited to speak and the event will be moderated by Puwanart Kunpalin.
4) On April 5, Matichon will invite representatives from diverse groups of voters to discuss the election. The event will be disseminated through all Matichon media platforms.
5) On April 19, major PM candidates will speak with Matichon to demonstrate their vision and convince voters to support them.
But that's not all. Matichon Group will pursue ten strategies through various platforms for a better coverage of the upcoming election.
1) An ad hoc website in Thai language: www.matichon.co.th/election/2566 will be up and running to reports on the five forums and more.
2) The Thai-language websites of Matichon, Prachachat and Khaosod will pool resources and synnergize with Matichon Information Centre for a more rounded and in depth reports on the political, economic and social dimension of the election.
3) All the group's media will utilise all platforms available, including Facebook, YouTube, TikTok and Twitter for its election coverage.
4) Matichon TV will keep reporting about election both at the local and national level on TV from Monday to Friday from now until the election day.
5) Matichon TV will have a weekly in depth election programme at 9pm every Tuesday night.
6) Khaosod Thai will talk to local voters. The coverage will be led by popular field reporter Natty Tanyaluck Wannakoet and disseminated through all Khaosod media platforms.
7) Local Khaosod reporters will ask local voters what they want to see after the election.
8) Prachachat business news will interview 10 major business leaders online. Interviewees include CP Group's Suphachai Chearavanont, Suphajee Suthumpun of Dusit Hotels and Resorts Group and Jareeporn Jarukornsakul of WHA Industrial Development.
9) Exclusive contents on key election figures on Matichon Weekender in collaboration with Sorakol Adulyanond.
10) Live reports from the fronts of voting booths nationwide on the election day.
Last but not least, Matichon Group's media will also have special election publication with new design that will provide voters with information to help them make the important decisions on election day.
Don't miss. Starting this Thursday, Feb 23.