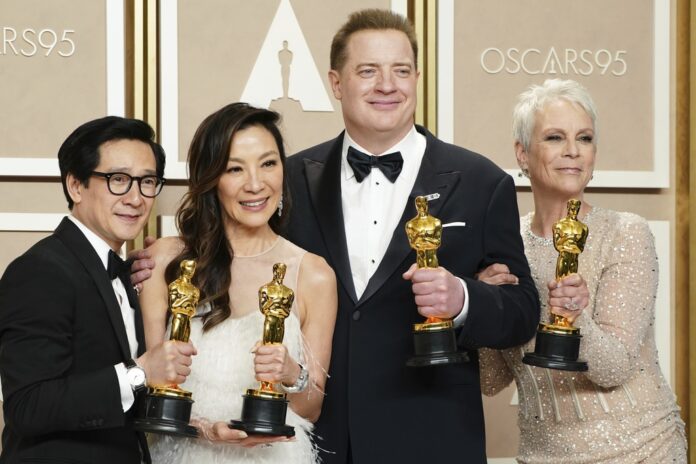 LOS ANGELES (AP) — The metaphysical multiverse comedy "Everything Everywhere All at Once" wrapped its hot dog fingers around Hollywood's top prize Sunday, winning best picture at the 95th Academy Awards, along with awards for Michelle Yeoh, Ke Huy Quan and Jamie Lee Curtis.
Though worlds away from Oscar bait, Daniel Kwan and Daniel Scheinert's anarchic ballet of everything bagels, googly-eyed rocks and one messy tax audit emerged as an improbable Academy Awards heavyweight. The indie hit, A24's second best-picture winner following "Moonlight," won seven Oscars in all.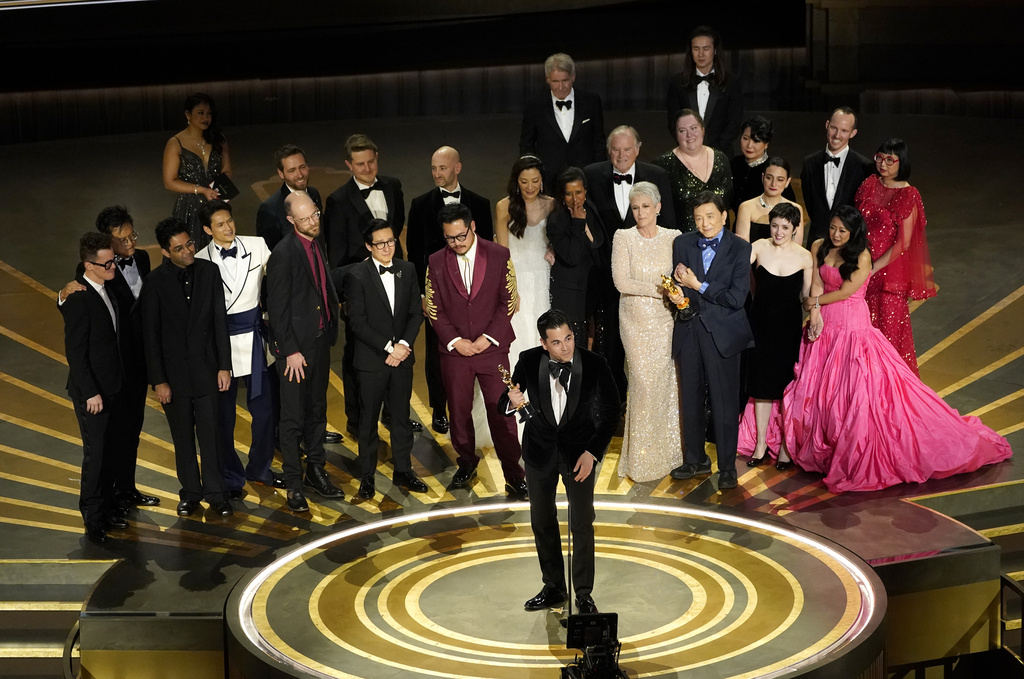 First Asian woman to best actress
Yeoh became the first Asian woman to best actress, taking the award for her lauded performance in "Everything Everywhere All at Once." The 60-year-old Malaysian-born Yeoh won her first Oscar for a performance that relied as much on her comic and dramatic chops as it did her kung fu skills. She's the first best actress win for a non-white actress in 20 years.
"For all the little boys and girls who look like me watching tonight, this is a beacon of hope and possibility. This is proof that dreams dream big and dreams do come true," she said. "And ladies, don't let anyone ever tell you you're past your prime."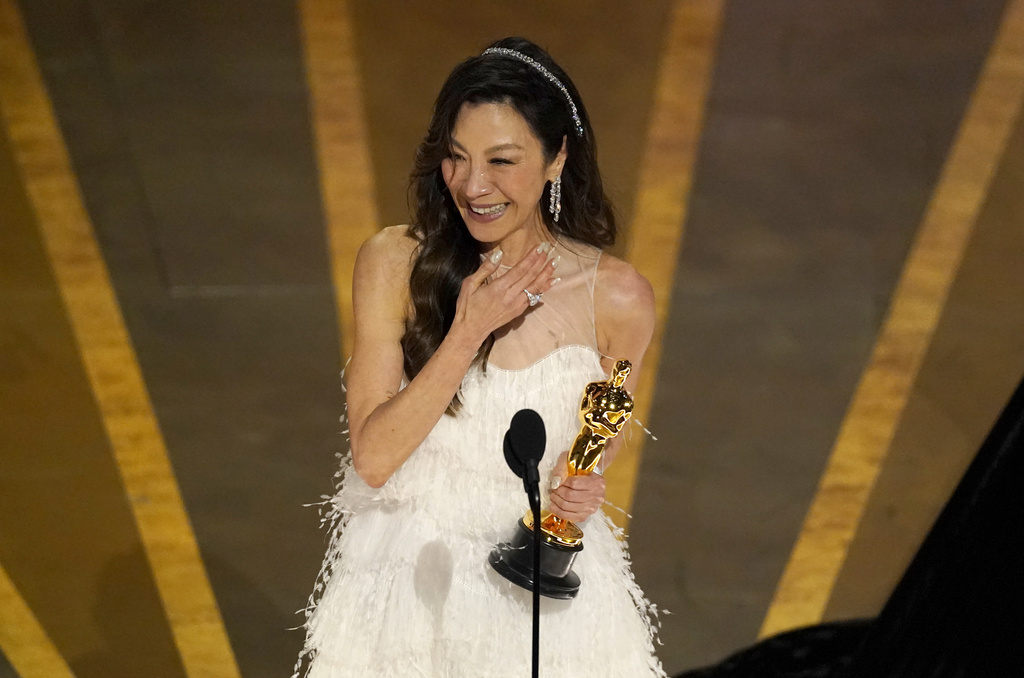 Yeoh's victory comes almost 90 years after Luise Rainer, a white actor, won the same category for donning "yellowface" to play a Chinese villager in "The Good Earth."
She joyously acknowledged the historical moment in front of reporters in the press room.
"I think this is something we have been working so hard towards for a very long time and tonight, we freaking broke that glass ceiling! I kung fu-ed it out and shattered it," Yeoh said.
Yeoh beat out past Oscar winner Cate Blanchett ("Tár"), as well as Michelle Williams ("The Fabelmans"), Ana de Armas ("Blonde") and Andrea Riseborough ("To Leslie").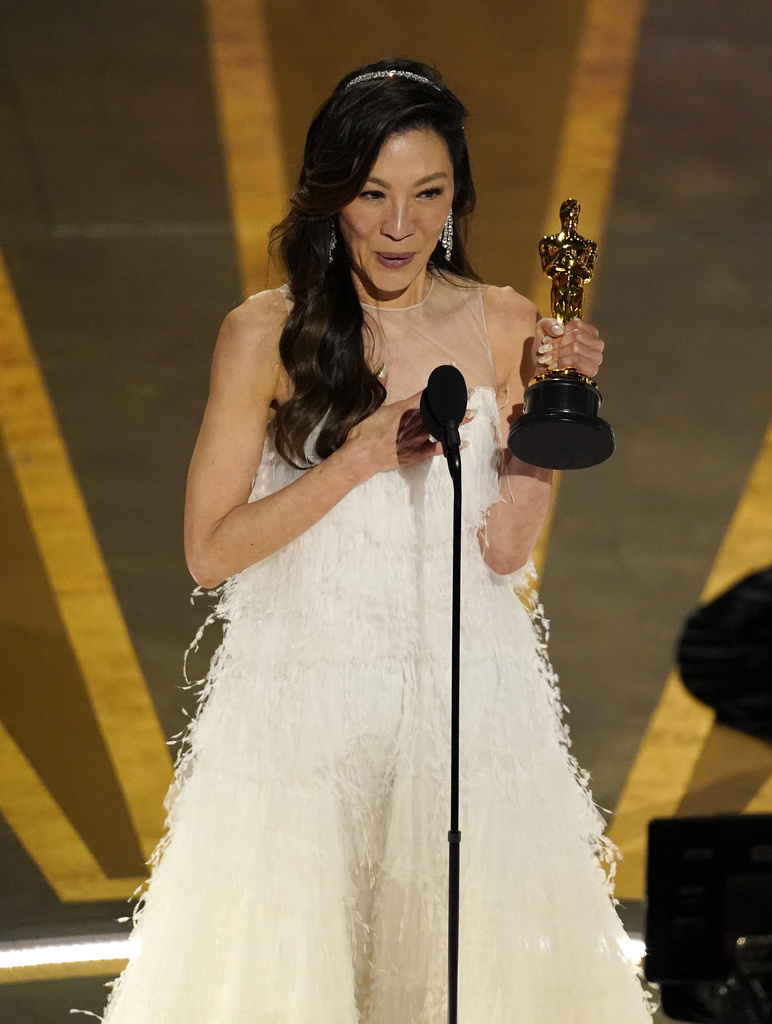 Yeoh also used her speech to honor her 84-year-old mother.
"I have to dedicate this to my mom and all the moms in the world because they are really the superheroes and without them none of us would be here tonight," she said.
Janet Yeoh got to watch her daughter's win at a live Oscar watch party in Kuala Lumpur, Malaysia.
Yeoh added her mother has "has always instilled in me confidence, taught me about love, taught me about kindness and compassion." She also heeded her mother's last piece of advice.
"The recent thing she asked me to do is, 'Don't wear pants to the Oscars.'"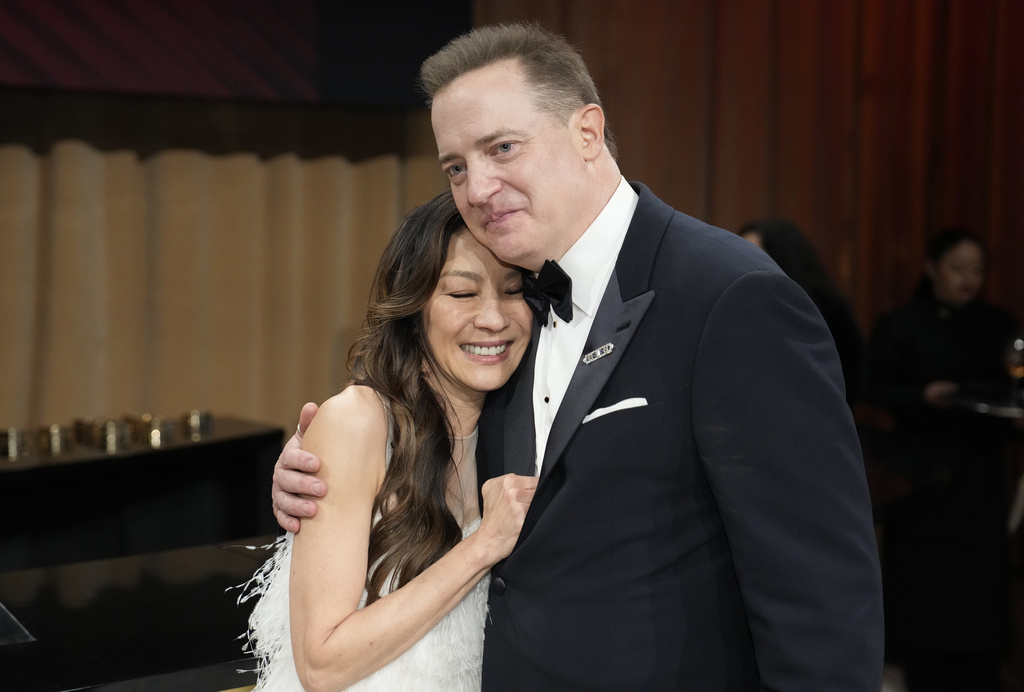 Yeoh appeared a lock after winning seemingly every award everywhere, including the Golden Globe and Screen Actors Guild award, for her nuanced portrayal of Evelyn, an immigrant Chinese wife, mother and laundromat operator bracing for a tax audit.
Fraser in career comeback
Best actor went to Brendan Fraser, culminating the former action star's return to center stage for his physical transformation as a 600-lb. reclusive professor in "The Whale." The best-actor race had been one of the closest contests of the night, but Fraser in the end edged Austin Butler.
"So this is what the multiverse looks like," said a clearly moved Fraser, pointing to the "Everything Everywhere All at Once" crew.
"I started in this business 30 years ago and things didn't come easily to me," said an emotional Fraser, breathing heavily on stage Sunday night. "I just want to say thank you for this acknowledgement."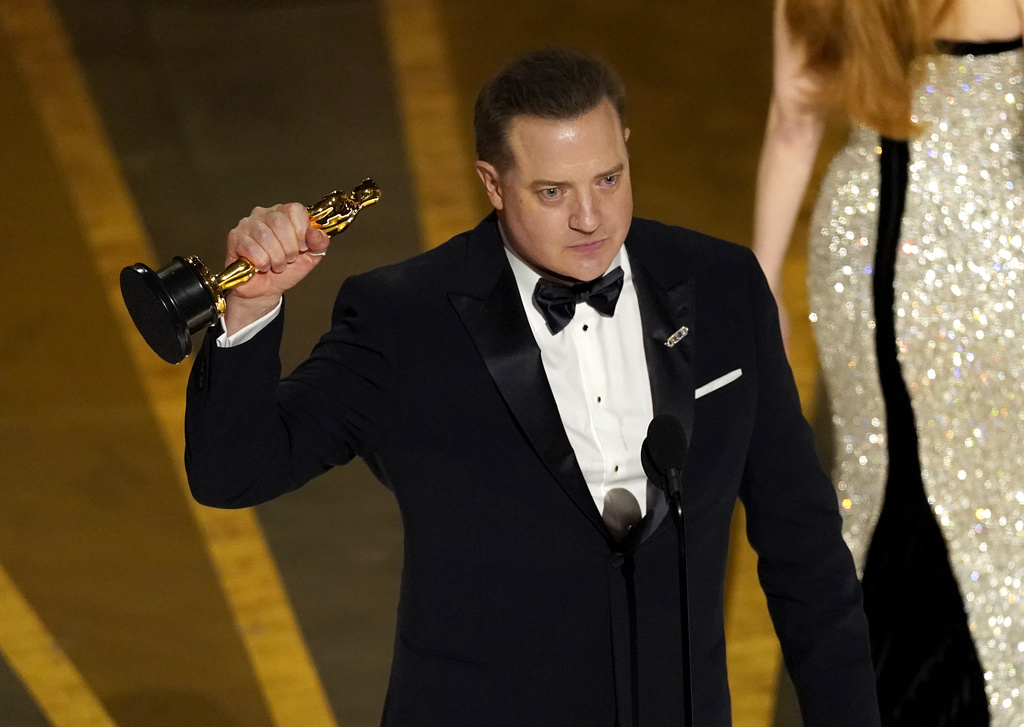 Fraser was one of five first-time nominees in the category, the first time that had happened since 1935. Fraser beat out Austin Butler of "Elvis," Colin Farrell of "The Banshees of Inisherin," Paul Mescal of "Aftersun," and Bill Nighy of "Living."
Fraser figures the role of Charlie, a 600-pound reclusive gay English teacher who tries to restore his relationship with his teenage daughter, found him at the perfect time.
Any earlier in his career and Fraser has said he wouldn't have had the life experience or heartache to authentically play a character who lives with sadness, pain and life-threatening obesity.
"I think it's a film that's going to change some hearts and minds, and that feels really good," he said backstage.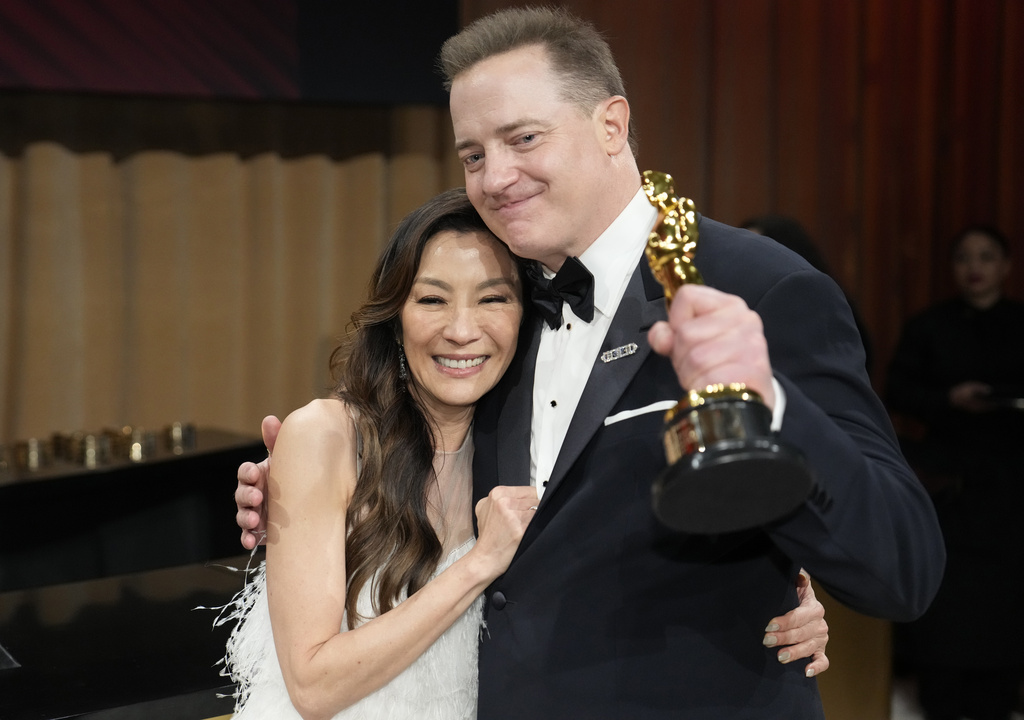 Fraser's portrayal earned him standing ovations at film festivals in Venice and Toronto, and the early praise continued building through the fall and winter. In addition to receiving the best reviews of his career, he earned a SAG Award for his performance. Along the way, he's given emotional acceptance speeches, unafraid to cry at times.
His eyes were rimmed red as he clutched his Oscar in one hand, clearly moved by the reaction from his Hollywood peers.
"This has been incredibly rewarding and affirming," he said backstage, "and it's given me a lesson in humility and gratitude."
It's a career comeback, which Hollywood has always loved.
Quan: This is the American dream
The former child star Quan capped his own extraordinary comeback with the Oscar for best supporting actor for his performance in the indie hit "Everything Everywhere All at Once." Quan, beloved for his roles as Short Round in "Indiana Jones and the Temple of Doom" and Data in "Goonies," had all but given up acting before being cast in "Everything Everywhere All at Once."
His win, among the most expected of the night, was nevertheless one of the ceremony's most moving moments. The audience — including his "Temple of Doom" director, Steven Spielberg — gave Quan a standing ovation as he fought back tears.
"Mom, I just won an Oscar!" said Quan, 51, whose family fled Vietnam in the war when he was a child.
"They say stories like this only happen in the movies. I can't believe it's happening," said Quan. "This is the American dream."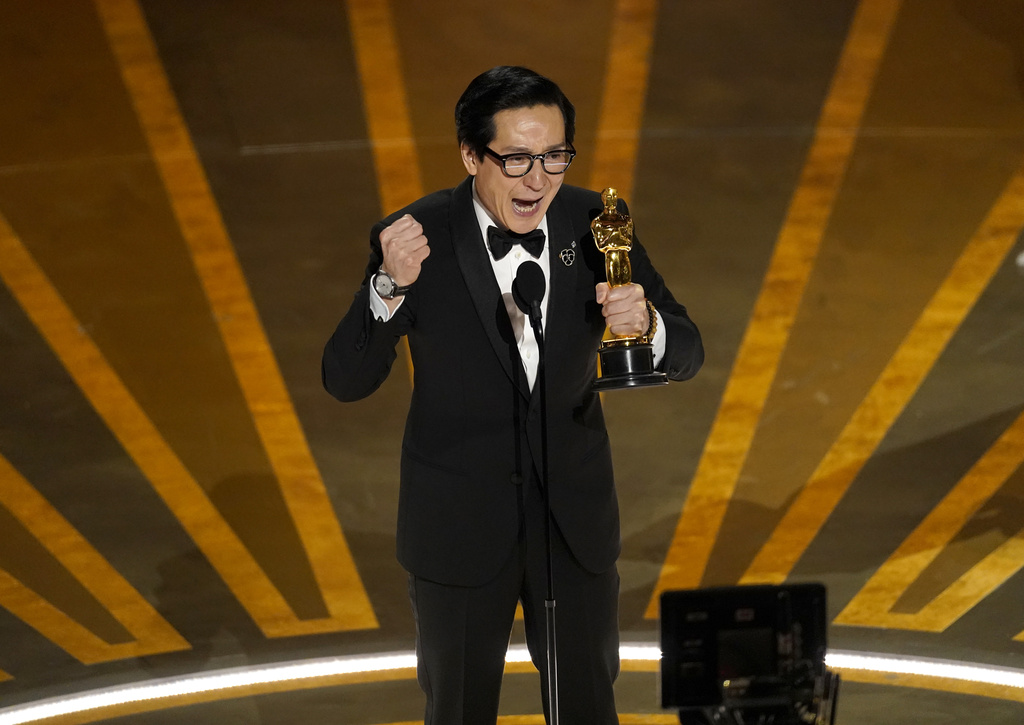 History for Jamie Lee Curtis
Minutes later, Quan's castmate Jamie Lee Curtis won for best supporting actress. Her win, in one of the most competitive categories this year, denied a victory for comic-book fans. Angela Bassett ("Black Panther: Wakanda Forever") would have been the first performer to win an Oscar for a Marvel movie.
It also made history for Curtis, a first-time winner who alluded to herself as "a Nepo baby" during her win at the Screen Actors Guild Awards. She's the rare Oscar winner whose parents were both Oscar nominees, something she emotionally referenced in her speech. Tony Curtis was nominated for "The Defiant Ones" in 1959 and Janet Leigh was nominated in 1961 for "Psycho." Curtis thanked "hundreds" of people who put her in that position.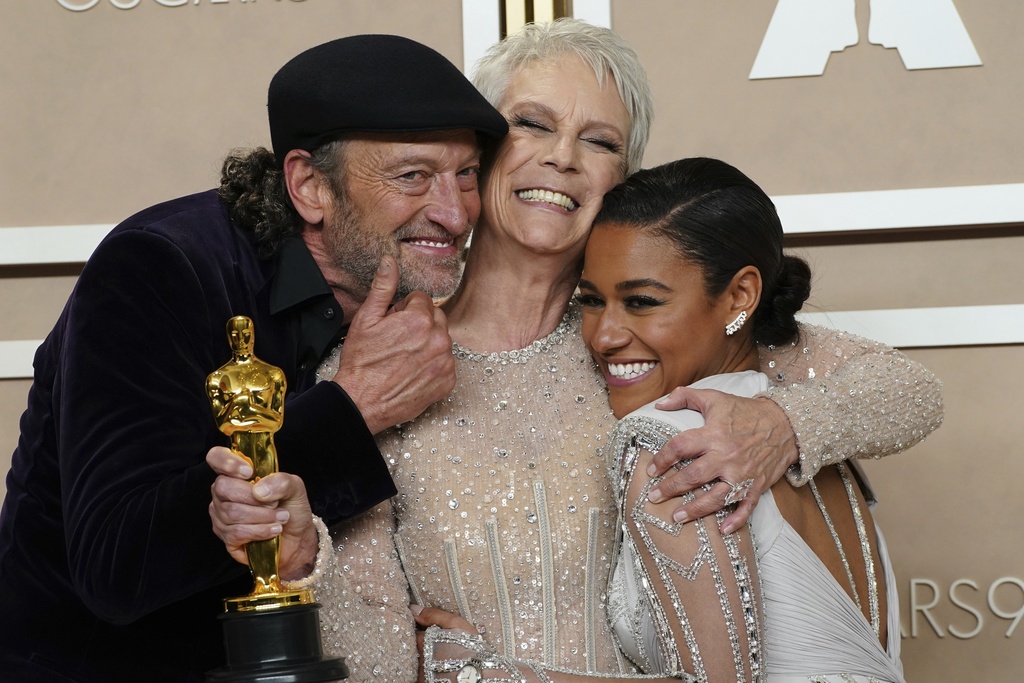 "My mother and my father were both nominated for Oscars in different categories," Curtis said, beginning to cry as she accepted the award. "I just won an Oscar!"
When Curtis was asked backstage if her parents are proudly looking down on her, the actor offered some serious candor in her response.
"I don't believe in a world where people are looking down on us," she said. "I think we are them in our actions, in our deeds and in our ideas. We build our own. We give them to our children, and that's how the world goes on. I am a product of them. I am a proud product of them. I know they would be incredibly proud of me."
Curtis' nomination comes more than 60 years after her mother was nominated for her supporting acting work in "Psycho." Her father received a nod in 1959 in the best actor category for "The Defiant Ones."
Jamie Lee Curtis, 64, became the eighth oldest in the category's history to win. She surpassed Judi Dench, who held the slot for her role in "Shakespeare in Love."
List of 2023 Oscar winners
LOS ANGELES (AP) — Oscar winners announced Sunday:
Best picture: "Everything Everywhere All at Once"
Best actress: Michelle Yeoh, "Everything Everywhere All at Once"
Best actor: Brendan Fraser, "The Whale"
Best supporting actor: Ke Huy Quan, "Everything Everywhere All at Once"
Best supporting actress: Jamie Lee Curtis, "Everything Everywhere All at Once"
Original song: "Naatu Naatu" from "RRR"
Film editing: "Everything Everywhere All at Once"
Best director: Daniel Kwan and Daniel Scheinert, "Everything Everywhere All at Once"
Best animated feature: "Guillermo del Toro's Pinocchio"
International feature film: "All Quiet on the Western Front" (Germany)
Documentary feature: "Navalny"
Live action short: "An Irish Goodbye"
Cinematography: James Friend, "All Quiet on the Western Front"
Makeup and hairstyling: "The Whale"
Costume design: "Black Panther: Wakanda Forever"
Documentary short: "The Elephant Whisperers"
Animated short: "The Boy, the Mole, the Fox and the Horse"
Production design: "All Quiet on the Western Front"
Music (original score): Volker Bertelmann, "All Quiet on the Western Front"
Visual Effects: "Avatar: The Way of Water"
Original screenplay: "Everything Everywhere All at Once"
Adapted screenplay: "Women Talking"
Sound: "Top Gun: Maverick"