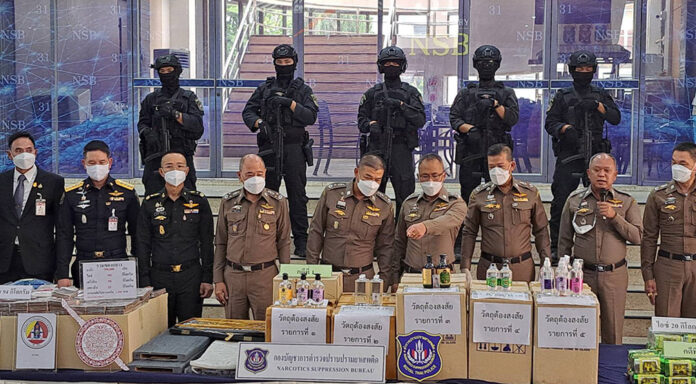 Pol. Gen. Chinnaphat Sarasin, the deputy commissioner of the National Police, together with the investigation team, announced the arrest of a Malaysian-Hong Kong transnational drug trafficking network at the Narcotics Suppression Bureau (NSB) on April 18 , 2023. Police seized 94 kilogrammes of heroin and 162 kilogrammes of methamphetamine.
The case occurred between April 10-11, when NSB officials, together with the Seaport Interdiction Task Force (SITF), which consists of the Office of the Narcotics Control Board, the Customs Department and the Armed Forces Security Centre, investigated a warehouse in Bangkok's Bueng Kum district. They found more than 30 kilogrammes of heroin stuffed in wood-like resin sheets destined for shipment to Australia.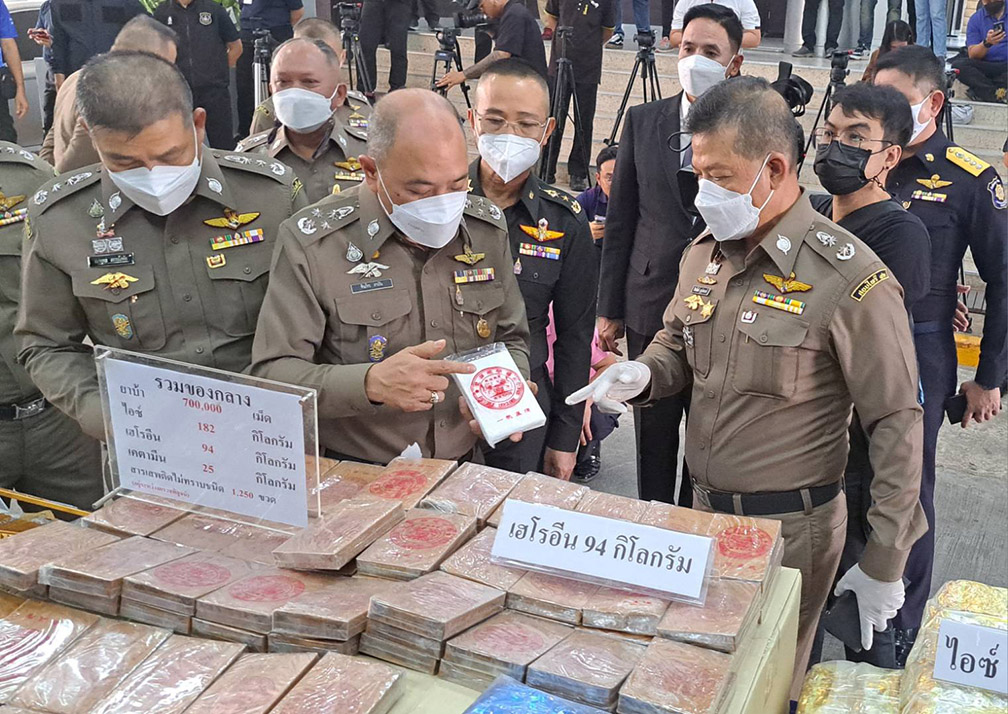 After further investigation, the sender turned out to be Kanda Khunthong, 33. She was later arrested at a department shop in Rama 3 Road, Chong Nonsi Sub-District, Yan Nawa District, Bangkok. She confessed that she is a heroin shipper and used another person's identity to ship the heroin.
She explained that she got the drug from a man she called "Boss" who spoke Chinese and that she had a person called "Ti" who helped her translate and hand over the money. Ti was later arrested. It is reported that a half-Thai, half-Australian person is the intended recipient of the drug.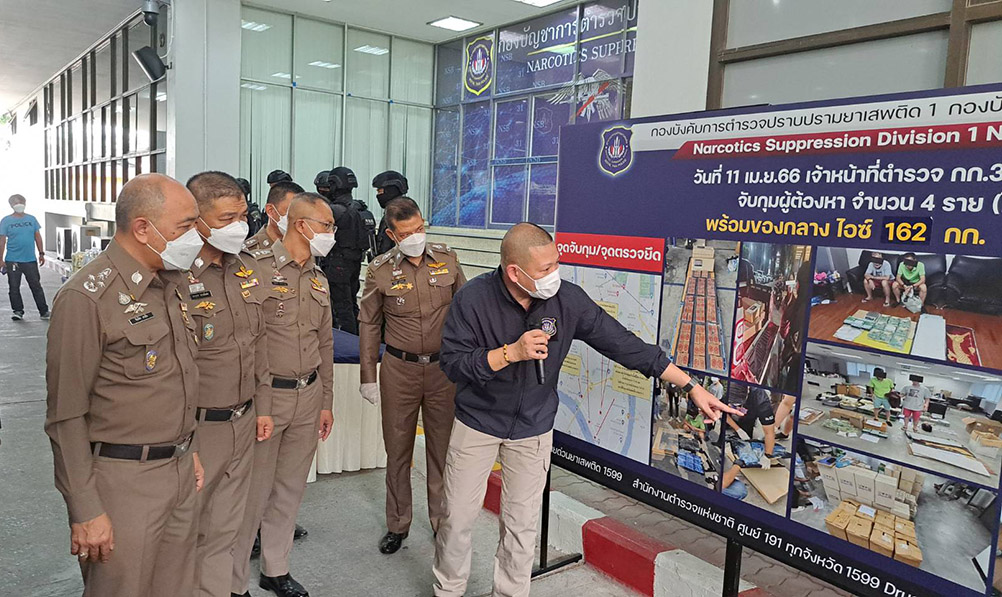 Officials later found some traces of this network when they planned to ship drugs before the Songkran festival. Using the NSB's Big Data system, police arrested the "boss", whose first name is Leung, 63. It turned out that he is a Malaysian citizen and was the boss.
He was arrested at a petrol station near Rama 3 Road, Chong Nonsi Sub-District, Yan Nawa District, Bangkok with more than 2 kilogrammes of methamphetamine hidden in photo frames to be shipped to Japan.
Police then arrested Jailu Loungmad or Ti, a 36-year-old Tai Yai whose job was to transfer money. He was arrested at a petrol station in Soi Sathu Pradit 15. His Rama 3 Road residence was later searched and found to be a station where drugs were hidden in various items.
Police found more than 13 kilogrammes of methamphetamine hidden in a cupboard. The team also found methamphetamine in the form of flakes mixed with 2 silicones weighing 18 kilogrammes hidden in 2 picture frames. The methamphetamine in a thick liquid form weighing 1 kilogramme was also found at the scene as well as 1,250 liquid bottles labelled as massage oil which was found to contain drugs. The police will send them for further investigation. The police then arrested Kai, 62, from Hong Kong.
The team examined 2 other rooms in a residential complex near Bangkok's Industrial Ring Road and found 64 kilogrammes of heroin and more than 128 kilogrammes of methamphetamine.
The NSB has conducted further investigations using the Big Data system and has concluded that the suspects were involved in other cases of sending parcels to different countries. They will try to expand the investigation.