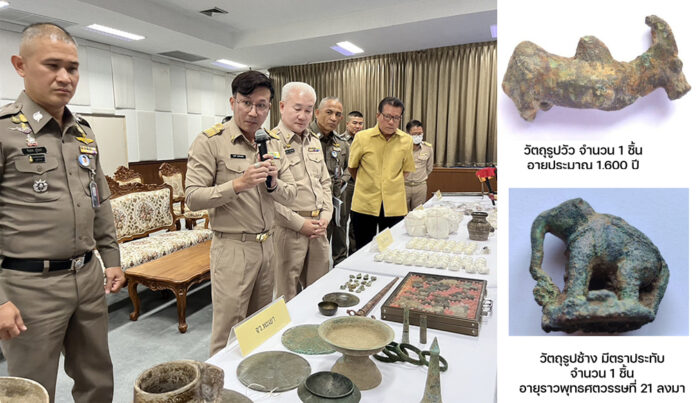 The 1,600-year-old sculpture of a bull and a 15th-century (21st-century Buddha) bronze elephant with a seal-imprinted platform were discovered among nearly 1,000 pieces unearthed by members of an ancient artefact smuggling gang who announced their sale on Facebook.
These artifacts were released to the public on September 4 when authorities arrested three members of the gang: Tossaporn Rermjum, 26 years old; Thotsapon Rermjum, 19 years old; and Sri-on Jantana, 46 years old. The first two were arrested in Photharam district, Ratchaburi province, while the third was arrested in Tha Wang Thong district, Phayao province.
They were all charged with "possession of antique or object of art which is buried in, concealed or abandoned at any place under such circumstances that no person could claim to be its owner and converts the same to himself or herself or to other person, or sell the antique or object of art," according to the law.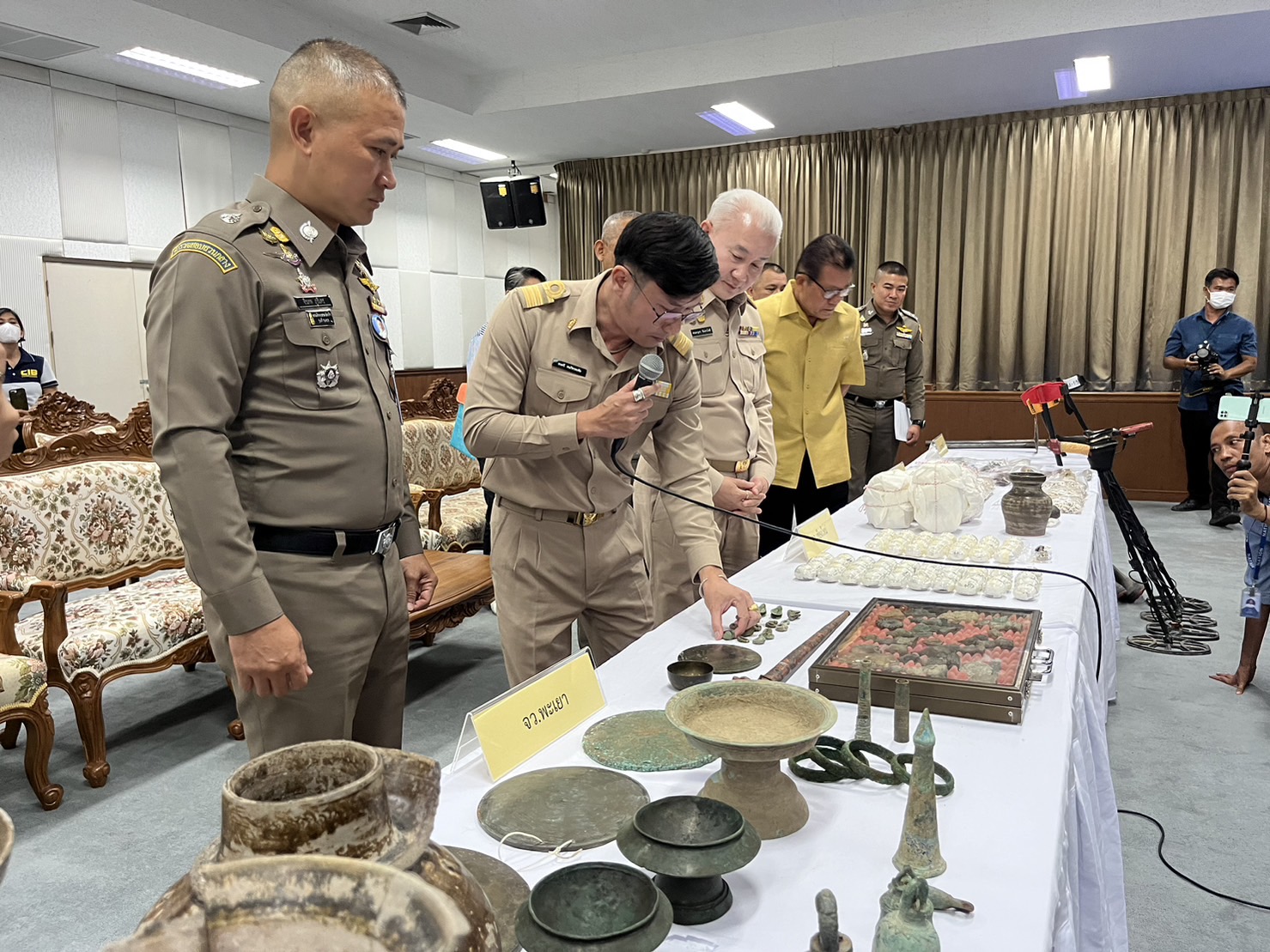 Evidence of their arrest includes 11 metal detectors, excavation equipment, and nearly 970 items resembling ancient artifacts or artifacts. Four bank account books were also found.
The commissioner of the Central Investigation Bureau (CIB), Pol Lt. Gen. Jirabhop Bhuridej, informed that authorities were made aware of a clandestine operation by a group of artifact holders engaged in the excavation, trade and online sale of ancient artifacts and artifacts, which is illegal. They contacted the gang to acquire the valuable artifacts and then had them examined by the Fine Arts Department. It was confirmed that they were indeed valuable ancient artifacts, which led to the arrest of the three individuals.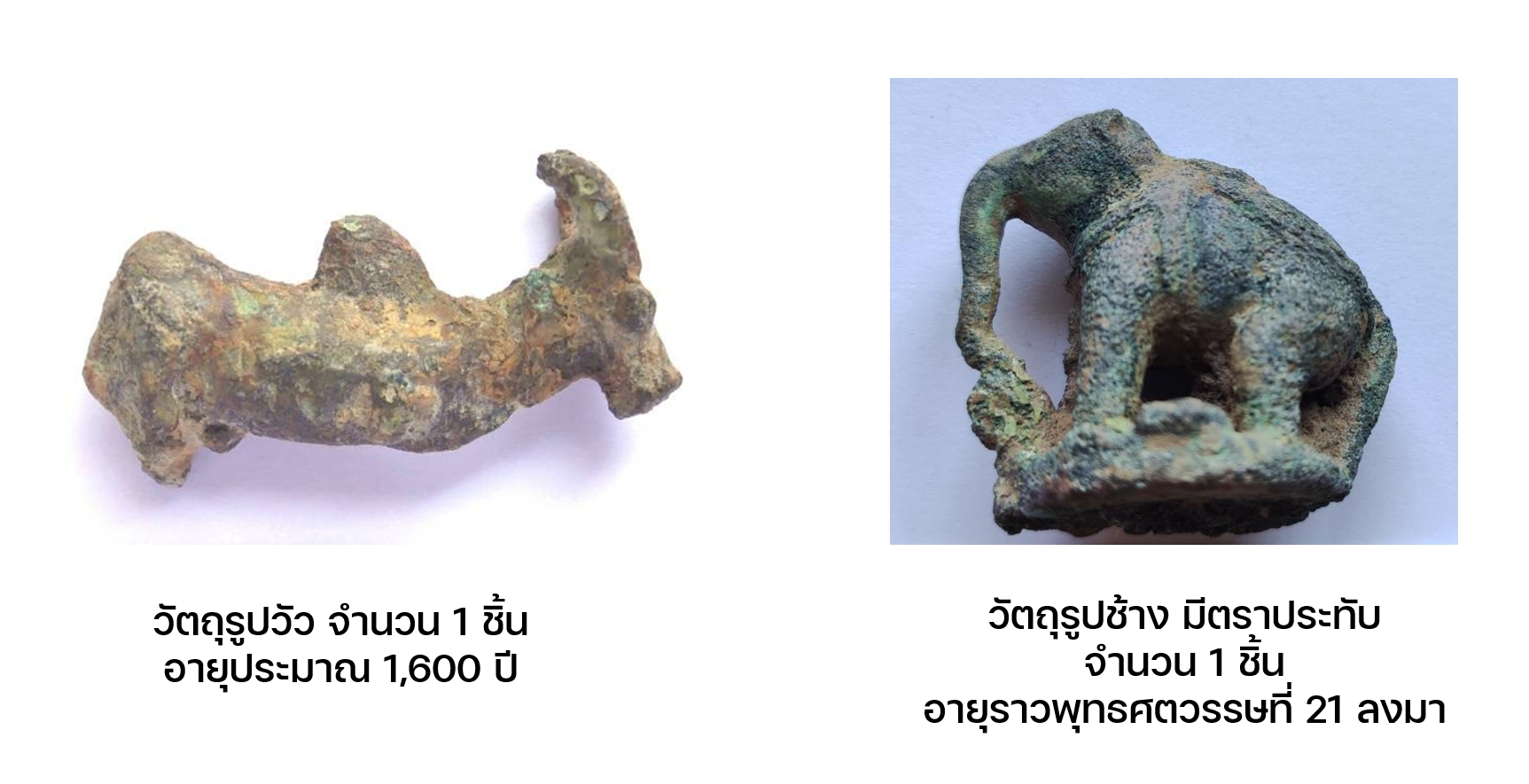 Further investigation led to the search and seizure of additional suspected hidden items at nine locations in Chiang Mai, Lampang, Phayao, and Sukhothai provinces.
The results of the searches led to the seizure of over 1,000 items resembling antique artifacts or art objects and the investigation of the suspects' bank accounts, which revealed a monthly income of about 200,000 baht and a turnover of over 10 million baht in the last three years. The first two suspects made statements, while the third denied involvement.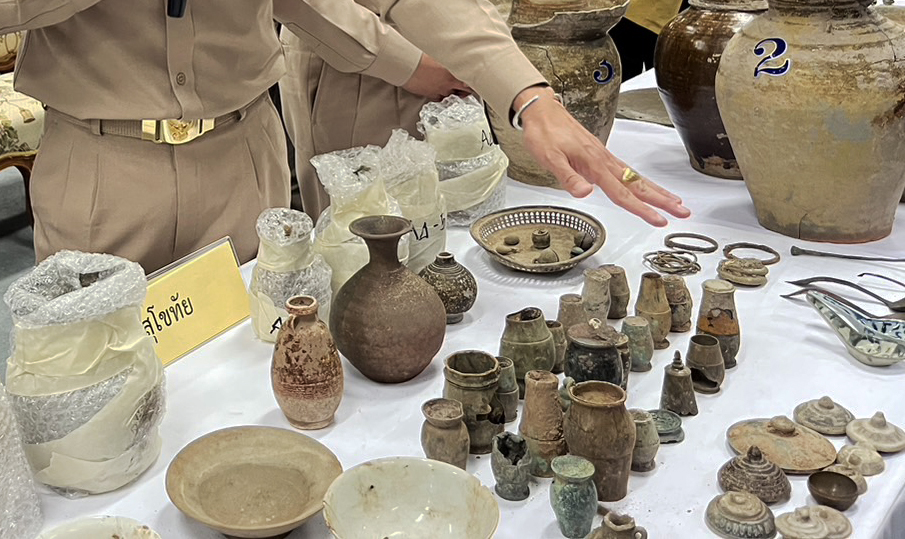 Phanombutr Chanthochote, the director general of the Fine Arts Department of the Ministry of Culture, urged the public to report any finding of objects resembling ancient artifacts or art objects and not to keep them, as this would constitute a crime. The return of such items would be rewarded, as they are essential parts of the national heritage of inestimable value.
He added that the country would suffer immeasurable loss if the ancient sculptures of the bull and the bronze elephant, representing ancient trades, were lost.