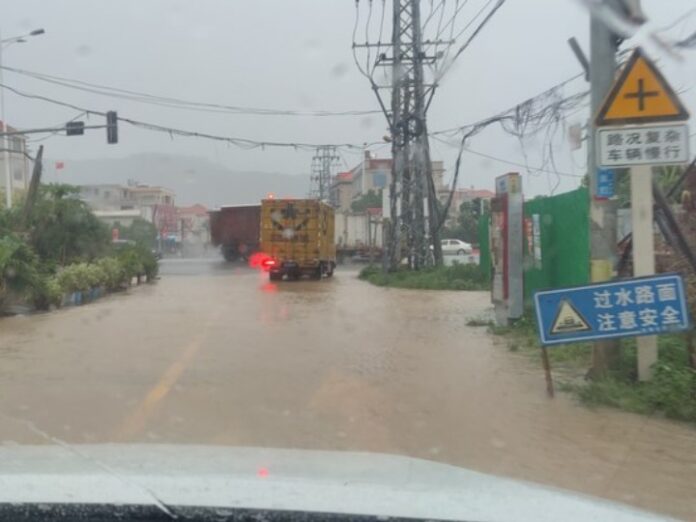 BEIJING (AP) — High waters swept a fire truck into a river in southeastern China early Tuesday, leaving five crew members missing, local authorities said, as the second tropical storm in recent days hit the mainland.
Haikui weakened to a tropical storm as it scraped along the coastline of Fujian and Guangdong provinces Tuesday morning, bringing up to 600 millimeters (2 feet) of rainfall to some areas as it moves inland, according to China's meteorological agency.
The fire truck swept into a river in Fujian's Yongtai county had been carrying nine crew members. Rescuers were "doing all they can" to find the five still unaccounted for, according to the county emergency response headquarters, as cited by online news site The Paper.
Water transportation and work along the coastline had been suspended ahead of Haikui, which was typhoon strength when it crossed the southern tip of Taiwan on Sunday without causing major damage.
Haikui followed Typhoon Saola 's landfall early Saturday along the Guangdong coast. The typhoon had sideswiped Hong Kong last week, causing some flooding.
In recent months, China has had some of its heaviest rains and deadliest flooding in years. Dozens of people have been killed, including in outlying mountainous parts of the capital, Beijing.
……………………
(Xinhua) — Typhoon Haikui, the 11th typhoon of this year, made landfall in the coastal areas of east China's Fujian Province and south China's Guangdong Province on Tuesday, according to local authorities.
The typhoon landed in the coastal areas of Dongshan County of Fujian at around 5:20 a.m. and Raoping County of Guangdong at about 6:45 a.m., bringing gales of up to 20 and 18 meters per second near its center, respectively, the meteorological observatories of Fujian and Guangdong said.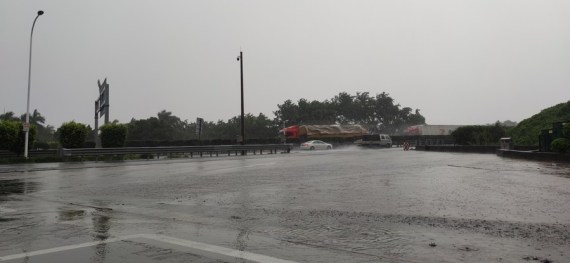 Haikui is expected to move westward at 10 to 15 km per hour and gradually weaken, according to the Guangdong meteorological observatory. The typhoon made landfall on Taiwan Island on Sunday.
According to the flood, drought and typhoon control headquarters of Guangdong, as of 12 noon on Monday, evacuation tasks had been completed in all the sea areas east of Huizhou City in the province, with 27,897 fishing boats taking shelter in the harbor, as well as 2,139 fishing personnel, 453 offshore wind power workers and 149 marine ranching personnel all landing to take shelter. All 25 coastal scenic spots were closed.
Additionally, 515 trains in Guangdong and 23 sea passenger routes east of Huizhou had been suspended due to flood and typhoon prevention. Classes had also been suspended in the cities of Shantou and Chaozhou.
______
Related article:
Taiwan Suspends Work, Transport And Classes As Island Braces For Arrival Of Typhoon Haikui