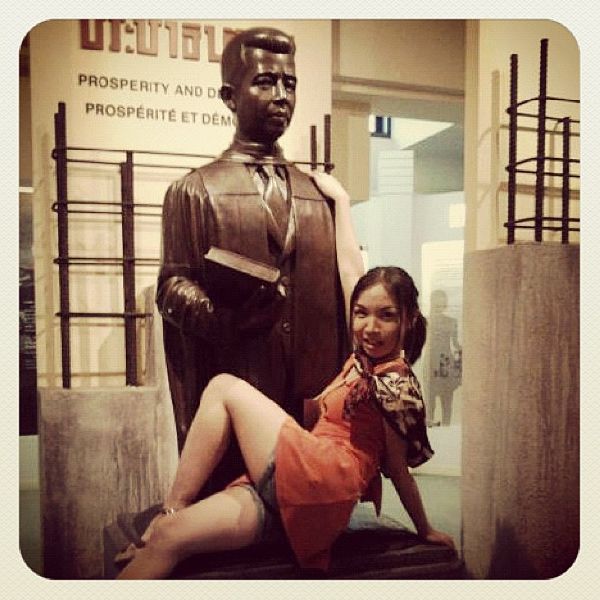 (11 September) The Dean of Thammasat University′s Science Faculty insisted that students must wear uniforms to his class, despite the ongoing campaign led by a student calling for an end to compulsory uniform wearing.
The Dean, Mr. Pakorn Sermsuk, said that the faculty board has decided to keep the dress code requiring students to wear university uniform to TU130 class.
TU130 is a compulsory module for all Thammasat freshmen students, and is notorious for its rule that all students must wear uniform to class or risk missing the chance to earn quiz marks, which will be calculated into the final grade.
The module has come under fire from a campaign spearheaded by a transgender student at Faculty of Liberal Arts who identified herself as Aum Neko (she has refused to give her full name to the press so far).
Ms. Aum, a second year student, argued that forcing students to wear uniforms in university years is tantamount to restricting personal freedom of the students and treating them like children, instead of letting them to think for themselves.
However, Mr. Pakorn said that all 15 professors teaching the class had advised the students during introduction class that the must comply with the dress code, explaining that "the subject is about science, and scientists must strictly follow rules".
He also complained that for the past 10 years that the class has been taught, the professors have never encountered such problems before. (Presumably, even when Ms. Aum was enrolled in the class last academic year).
All universities in Thailand require their students to wear uniforms, but its efforts and severity vary from place to place.
Some buildings in Chulalongkorn University, for instance, have gone as far as banning pink shoes because the university colour is pink, while Thammasart University has relatively relaxed rules concerning the uniforms; the students are often seen going to classes in attires of their choices. However, some Thammasart lecturers, like Mr. Pakorn, are more adamant than others.
Although campaigns to end the compulsory uniform rules have been sporadically launched by progressive students in some universities, Ms. Aum′s crusade has been the most vocal in recent months.
Last week, Ms. Aum′s campaign made headlines after scandalous anti-uniform posters started appearing around Thammasart University compound. The posters depict male and female students having sexual intercourse in their uniforms.
In an interview with Prachatai, Ms. Aum explained that students should be allowed to open up to creative thinking, and release themselves from the limitations of the university's uniforms in expressing their gender preferences.
According to Ms. Aum, Thammasat represents liberal ideology and freedom. She argued that ever since its founding in the aftermath of the 1932 Revolution which toppled Siamese absolute monarchy, the university has stood as a bastion against dictatorship in Thailand.
"The university should be reminded of its roots," Ms. Aum was quoted as saying.
The uniform, in her perspective, also separates the gender identity of male and female apart, which denotes the intolerance of the Thai society towards homosexuality.
She explained further that even though the university is generally open about its dress code, many faculties established their own rules to restrict students from casual clothing.
The activist student cited the case of Faculty of Commerce and Accountancy at Tha Prachan campus, which has a sign that says ?no uniform, no service?.
Ms. Aum′s activism, and the racy anti-uniform posters, have raised sharp debates within the community of Thammasart University.
Some have sympathised with Ms. Aum′s point that wearing uniform does not improve academic excellence in any way, whereas others argued that dropping the dress code would lead to chaos or even moral nihilism in the country as students might lose the sense of self-discipline.
In response to Ms. Aum's protest, the University Rector, Mr. Somkit Lertpaithoon, said that the University is appointing a special commission to investigate the situation.
"I can confirm that we do not rule students to wear uniform to class, but we 'encourage' them to, particularly during exam season, in order to teach them about the virtues of disciplines" Mr. Somkit said.
Meanwhile, Mr. Prachya Nongnut, vice president of student affairs, said that his authority is gathering opinions, and will soon consult with the student union about the issue.
"Personally, I do not think that outfits matter equally to the things we learn in class. But the students should also be aware that their outfits indicate the respect they have toward the university." Mr. Prachya said
He added, "Our organisation is conducting a public hearing, before we can conclude what we should wear to class that does not devalue our identity".
For comments, or corrections to this article please contact: [email protected]
You can also find Khaosod English on Twitter and Facebook
http://twitter.com/KhaosodEnglish
http://www.facebook.com/KhaosodEnglish