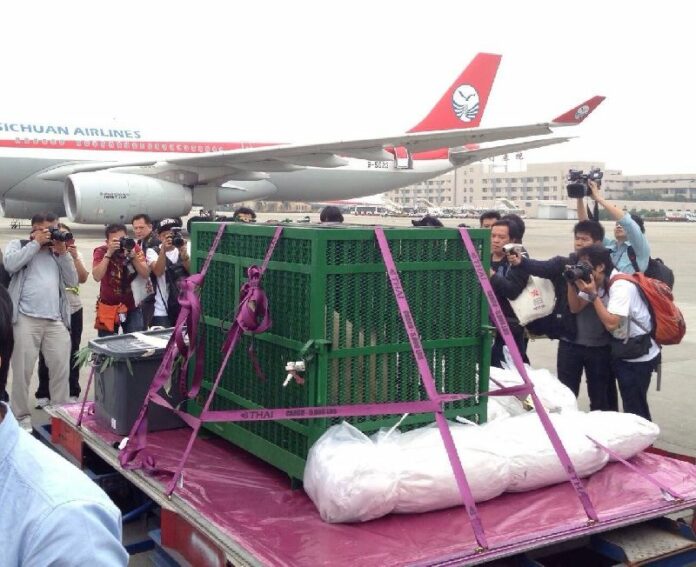 SICHUAN, China — As of Sept. 30, the Thai-born giant panda "Lin Ping" is gradually adjusting to her new abode in China, where she had been sent to select a mate, according to a Thai official.
The popular panda travelled from Chiang Mai Zoo in Thailand to China on 28 September. She is currently housed in Bifengxia Panda Base in Sichuan province, and will return to Thailand next year after having chosen her mate.
Lin Ping is an offspring of a pair of pandas China has loaned to Thailand.
Mr. Somchai Wongsawad, the former Thai Prime Minister, and Mr. Ning Fukui, Chinese Ambassador to Thailand, presided over the procedure to fly Lin Bing via Thai Airway's flight TG 8183 from Chiang Mai Airport to Chengdu, China.
Ms. Kanchana Silpa-Acha, Advisor of the Tourism Commission in Thailand who travelled with Lin Ping to Chengdu Airport, said the panda seemed a bit scared and threatened the crew as she was being unloaded, but she was told by the staff that the aggressive behaviour was a good sign that the panda was healthy.
After landing at Chengdu, Lin Ping was taken on a two hour long journey to the panda research facility.
According to Ms. Kanchana, Lin Ping had made many Thai people happy. Ms. Kanchana also wished to thank the Chinese panda centre for treating Lin Bing so importantly and preparing all the natural environment to receive the panda.
"I am worried whether Lin Ping will get along [with other pandas], but I am sure she will do so in due time" said Ms. Kanchana, who also likened her sad feeling about the panda′s departure to China to "Seeing my own child off to study abroad."
Ms. Kanchana also described the panda as ?the great Ambassador representing the relationship between Thailand and China?, and expected that many Thais would fly to China in order to visit Lin Ping in the future.
Lin Ping is scheduled to choose her future mate from 6 candidates at around the end of this year, and start mating by April 2014.
When Lin Ping returns to Thailand with her future mate, the Thai authorities will be required to send her parents, Chuang Chuang and Lin Hui, back to China in accordance with the Chinese authorities? guideline which prohibited any foreign nation from hosting more than 3 pandas at the same time, a Thai official said.
Ms. Kannikar Nimtrakul, one of the veterinarians who tended to Lin Ping during her stay in Chiang Mai, told Khaosod that despite her nervousness to the new environment, Lin Ping is healthy.
According to Ms. Kannikar, Lin Ping woke up early and wandered around nervously, but she could eat normally.
After a few discussions with the Chinese centre, Ms. Kannikar said, within a month Lin Ping will gradually have to move to other places.
"At the moment she would stay at the zoo in Ya'an for a week, until she coped with the new environment," said Ms. Kannikar.
The veterinarian also said that the panda will be fed with less bamboo leaves, as they planned to have her eaten more bamboo shoots. The food for panda will be changed again in 45 days.