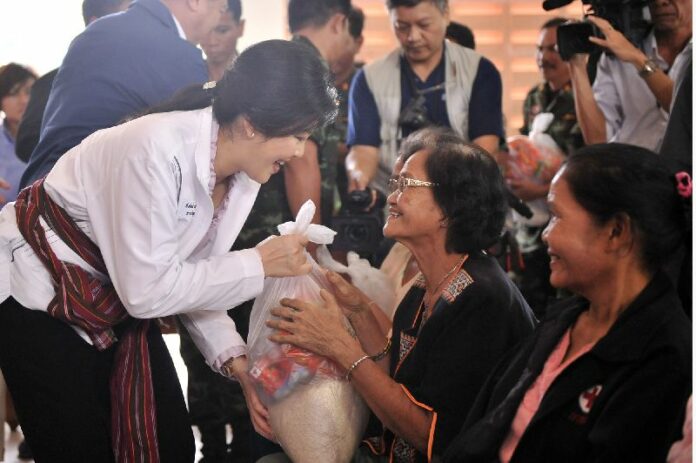 (30 September) Former Prime Minister Banharn Silpa-Acha told reporters he is expecting the flood crisis that has inundated a quarter of Thailand′s provinces to be solved within 7 days.
He made the comment during his trip to inspect a flooded area in Prachinburi province with Prime Minister Yingluck Shinawatra and other officials on 29 September.
The time frame of 7 days for the crisis resolution could be achieved, he said, if the authorities followed the Prime Minister′s instruction to pump water into Prachinburi River and Bang Pakong River.
Asked by the reporters whether outgoing floodwater and rainwater from Sa Kaew province would worsen the situation in Prachinburi, Mr. Banharn said the government must quickly solve the short-term problem and plan for long-term improvements.
The former Prime Minister also offered to take care of the situation on the Prime Minister′s behalf, as she is occupied with more pressing issues.
Meanwhile, Ms. Yingluck said that the Prachinburi Provincial Authority and the Royal Irrigation Department had been ordered to open Tha-Hae Watergate as requested by many residents, in order to release the water from Kabinburi district.
Additionally, she has instructed the Department of Disaster Prevention and Mitigation to help evacuate people from the affected area, and provide them with basic necessities .
At the same time, said the Prime Minister, the government will also study the affected area to prevent and relieve both short and long term flood crises.Earlier today, Ms. Yingluck and her team have also visited Warinchamrap district in Ubonratchathani province, where she inspected the current flood situation and handed out assistance to the flood victims.
Ms. Yingluck said that she had ordered the Department of Irrigation to carefully handle the flood, after 2,632 families had fled their homes in the province.
According to Ms. Yingluck, she will consider the plan, submitted to her by a group of locals, to build 2 water pumping stations and develop the roads in the district to prevent further flooding. The plan is estimated to cost 100 million baht.
So far, the Department of Disaster Prevention and Mitigation reported that 27 provinces have been affected by the flood, causing the evacuation of approximately 15,00 people. Over 2 million people have been affected, and at least 21 people reportedly killed.
The flood might be worsened by an oncoming typhoon from the South China Sea. According to the Thai Meteorological Department, Typhoon Wutip has made landfall in Vietnam and is expected to hit the northern and the north eastern regions of Thailand before dissolving in the next few days.
The department warned that the said typhoon will cause heavy rains and strong winds and may prolong the flood in many provinces already ravaged by the disaster.