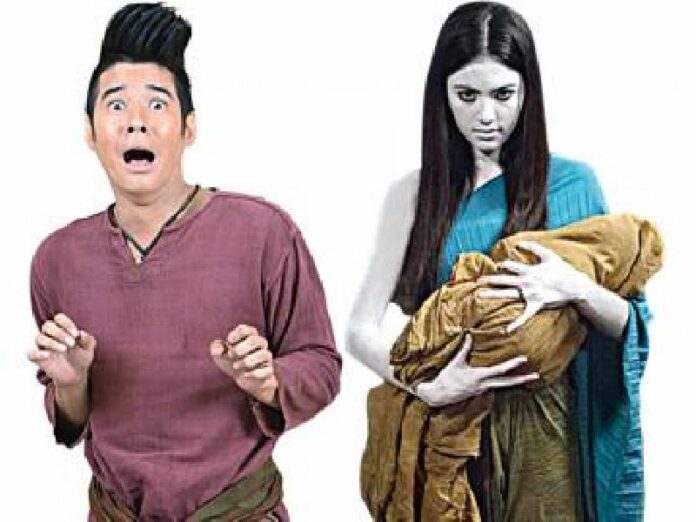 (2 November) As long as we cannot answer where the dead go, the unsolved mystery will still make people from around the world believe in life after death.
On the night of 31 October, we celebrate Halloween, which dedicated to the dead and the haunting spirits. However, the most famous signatures of the Thai Movie industry is also dedicated to ghosts.
Let's check out the haunting ghosts in Thailand, which have – for so long – been made even more famous by the motion pictures.
"Pee Tai Hong" – a ghost who died of unusual deaths, is believed to be very scary and possesses powerful force.
"Pee Thai Tung Klom" – a woman ghost who died during child delivery, in which both she and the stillborn could not make it alive. The most recognizable one in the category is "Mae Naak", who has been portrayed in a well-known love story of all time
"Mae Nak Pra Khanong" (including in one of the remake motion picture – Pee Mak Pra Khanong). Mae Nak, waits for her husband, "Pee Mak", before and after her death, for him to return from the war and rejoin their family again.
"Pee Pop" – a living woman who has powerful black magic she often casts on other people without being afraid of the sins, usually after she was discovered. "Pee pop" can turn other people into one of her kind by feeding them with intestines. The character has been portrayed in over 10 movie sequences so far.
"Pee Pread" – a ghost who suffers from bad karma and was cursed to have a body as tall as sugar palm trees, a long neck, huge hands and tiny mouth to cry begging for mercy. "Pee Pread" seems to be the least popular ghost in the motion picture industry.
"Pee Ta Kian" and "Pee Ta Nee" – very beautiful, yet very haunting ghost who are often seen in old traditional Thai dress. These young gorgeous women ghosts often live inside the Ta Kian Tree and Banana trees.
There are at least two types of Thai horror movies; the classic ones, of which ghosts actually haunt people, but featured in comic style that most Thais enjoy watching. This category is mostly a top-seller movies, as it resembles Thai countryside lifestyle which is close to the classic ghosts and monks.
Another type is a new-generation horror films, mostly from GTH, in which ghosts appear more logical and emotional. This new style of horror movie is not only welcome in Thailand, but also well appreciated by audience in other countries as well. Many movies topped the box-office in several countries, for example; the latest "Pee Mak Pra Khanong", which reached billion baht nationwide. Another movie, "Shutter" even made it to Hollywood, and has seen a remake in America.
This year Sentosa Spooktecular 2013 – a movie festival in Singapore, the notable GTH was invited to bring all the ghosts to haunt the event.
Mr.Yongyut ' Sin' Tongkongtun, GTH senior director of marketing proudly told our affiliate newspaper Prachachart's correspondent that GTH has been requested to specially create a haunted house for Singapore. The theme for the house is the site of Sawaddee Airlines plane crash, where Thai ghosts come out and haunt the visitors, with a surprise twist that all the ghosts are lady-boys.
Sin explained to Prachachart about GTH′s success on horror films that every culture has imaginations about ghosts and the fear of darkness and the unknown, and that GTH has their own techniques of storytelling.
"For GTH, we focus on stories that connect with social issues and lifestyles, and that the key is to get the audience to understand and to feel the stories", said Sin, "Another important factor to conquer international market is the subtitles, we do not translate directly from Thai dialogues, we adapt them to appeal to the worldwide culture"
For comments, or corrections to this article please contact: [email protected]
You can also find Khaosod English on Twitter and Facebook
http://twitter.com/KhaosodEnglish
http://www.facebook.com/KhaosodEnglish