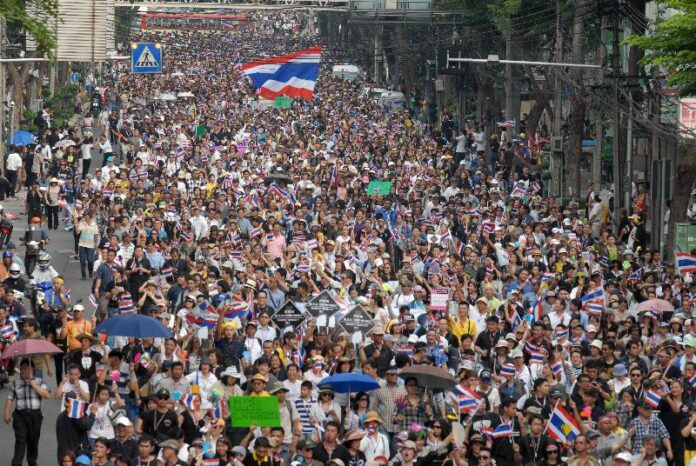 (12 November) Many Bangkok residents are stockpiling food and other essential goods out of fear that the anti-government protests could spiral into unrest, said a researcher at the Thai Chamber of Commerce University (UTCC).
Mr. Wachira Koontaweethep, Director of The Centre of Economic and Business Forecasting (CEBF) based in the University, told our correspondent that large number of food products are being bought from various supermarkets in the capital city by Bangkokians who feared the possibility that the government would impose the martial laws to contain the protests.
Many Bangkokians are fearing a return to 2010 unrest, which saw the government at the time declaring curfews and sending the military to disperse the protesters, he said.
According to Mr. Wachira, "The survey conducted by the CEBF revealed that the consumption and purchasing demands had increased 22.5% in Bangkok and other big cities after protests against the blanket amnesty bill were organised in various venues".
Although the consumers continue to stockpile instant food and vegetable oil to prepare for the worst if the crisis escalated, the CEBF Director believes that the situation would not lead to food shortage.
Meanwhile, Commerce Minister, Mr. Yanyong Phuangrat, dismissed the reports of consumers buying food products in panic, insisting that it was just a "false rumour".
Nevertheless, the minister said he had instructed the Department of Internal Trade to assure that manufacturing and retailing segments are running smoothly and that no traders try to hoard or overprice the goods.
For comments, or corrections to this article please contact: [email protected]
You can also find Khaosod English on Twitter and Facebook
http://twitter.com/KhaosodEnglish
http://www.facebook.com/KhaosodEnglish