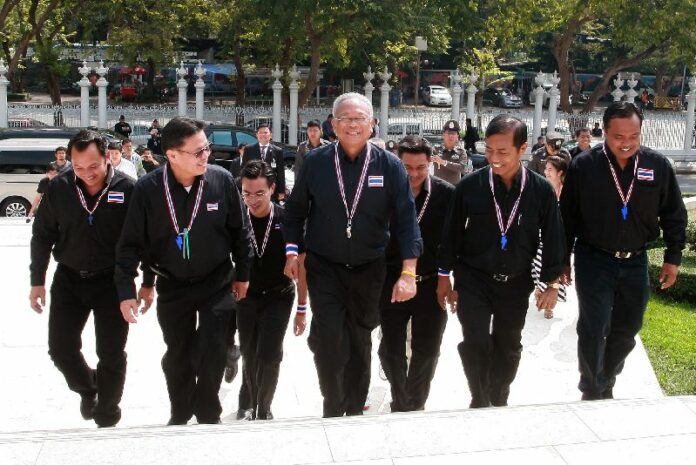 (12 November) Several prominent representatives of the private sector have spoken out against the ?civil disobedience? measures suggested by the leader of the anti-government protests.
In the bid to intensify their campaign against the government of Prime Minister Yingluck Shinawatra, Mr. Suthep Thaugsuban called on those hostile to the government to go on a nationwide strike between 13-15 November, while schools and colleges should be shut down during the said period.
Thai people should also refuse to pay taxes to put the pressure on the government to resign, according to Mr. Suthep, who had announced his resignation as a Democrat MP in the same speech at Ratchadamnoen Avenue.
However, the chairman of Federation of Thai Industries (FTI), Mr. Phayungsak Chartsuttipol, criticised Mr. Suthep′s call for the nationwide strike as damaging to the economy and reputation of the nation. He also urged Thai people to pay their taxes, contrary to what Mr. Suthep′s instruction.
The protests should come to an end already, Mr. Phayungsak argued, as the controversial ?blanket amnesty? has been effectively shelved by the Senate.
"I want to see peace and cooperation of the Thai people to develop their country," said the FTI chairman.
Mr. Isra Wongkusolkit, chairman of the Thai Chamber of Commerce, echoed Mr. Phayungsak′s opinion, urging the Thai people to ignore the calls for the strike on 13 November.
"The private sector will not accept this measure," Mr. Isra said, "And as for the proposal to stop paying taxes, the private sector will not go along with it neither, because it is illegal".
Meanwhile, three leading universities have denied reports that they will answer Mr. Suthep′s calls for university shutdown on 13 November. Rectors of Thammasat University, Rangsit University, and Srinakharinwirot University said although the students would not be barred from participating in the protests in their private time, the universities will function as usual.
Facebook pages associated with anti-government factions have previously reported that the three universities would cancel their classes to support the protests at Ratchadamnoen Avenue.
For comments, or corrections to this article please contact: [email protected]
You can also find Khaosod English on Twitter and Facebook
http://twitter.com/KhaosodEnglish
http://www.facebook.com/KhaosodEnglish