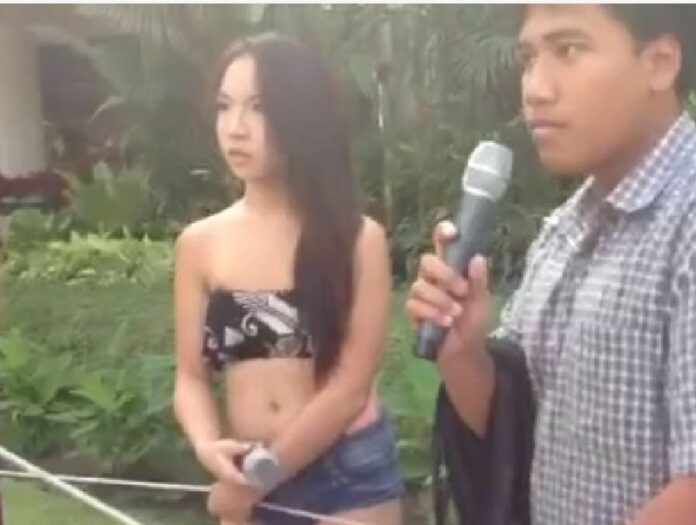 (9 December) Thammasat University is said to be considering a punishment against a transgender student activist who protested its Rector′s alleged conspiracy with anti-government protesters.
Ms. Aum Neko, whose real name is Saran Chuichai, had previously attempted to replace the Thai national flag with a black flag at an administrative building in Rangsit Campus of the university. She also accused Thammasat Rector Somkid Lertpaithoon of collaborating with anti-government protests, which she described as an undemocratic movement.
Thammasat University has responded to the incident by setting up a committee to determine whether Ms. Aum had violated the university′s code of conduct, and if found guilty, Ms. Aum could face a punishment as severe as a one year suspension.
A number of Thammasat students is also collecting signatures for a petition asking for expulsion of Ms. Aum, on the grounds that she has "betrayed" the university.
Speaking to Khaosod, Ms. Aum said she does not feel threatened by the petition, as the students are simply exercising their rights, but added that the university′s constitution does not permit expulsion of students in this manner.
The activist also dismissed allegations that she had insulted her educational institute by dressing inappropriately for the protest, explaining that Thammasat has no official guidelines on dresscodes.
She said she has not been contacted by any university official, as the university has not yet re-opened. Nevertheless, if the committee approved her suspension, Ms. Aum said, it would amount to Thammasat′s departure from its reputation as a bastion of democracy and liberal ideas.
"It would mean we have no basic rights. We were just expressing our disagreement with the Rector," Ms. Aum told our correspondent.
Ms. Aum also vowed to scrutinise whether university regulations allow her suspension and appeal the punishment if she feels she is being unjustly punished.
For comments, or corrections to this article please contact: [email protected]
You can also find Khaosod English on Twitter and Facebook
http://twitter.com/KhaosodEnglish
http://www.facebook.com/KhaosodEnglish