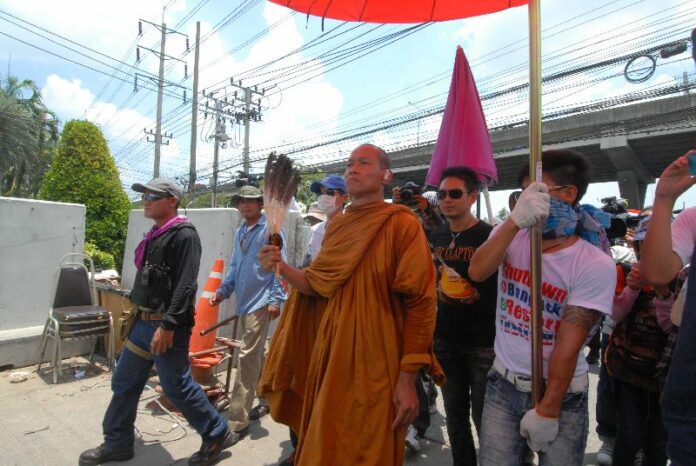 BANGKOK — Buddhist monk and anti-government activist Buddha Issara has defended the savage attacks on innocent bystanders that anti-government militants have committed in recent weeks.
Security guards employed by the People's Committee for Absolute Democracy With the King As Head of State (PCAD) have been making headlines with tales of their intimidation and physical assaults on random motorists and bystanders.
Speaking to Daily News newspaper yesterday, core PCAD leader Buddha Issara admitted that the anti-government guards are known to be violent, but also asked the public to "understand the situation."
"We want to maintain security for our brothers and sisters," Buddha Issara said. "It may affect your traveling, but if you understand the situation and don't let your emotion cloud your judgment, I think, every side will understand our actions."
In the last week alone, PCAD guards beat up a pilot en route to Don Mueang Airport, leaving him unconscious, and stabbed an ice delivery man in the lung, causing him to fall into a coma.
In April, PCAD guards assaulted and shot at an army colonel on Chaeng Wattana Road, forcing the man to seek prolonged medical treatment in a hospital. PCAD guards later apologised to the Royal Thai Army over the incident, but the colonel's family has vowed to pursue legal actions against the guards.
Many of the violent outbursts appear to be prompted by the slightest sign of provocation; all three aforementioned incidents followed victims' attempts to remove traffic cones placed on the roads by PCAD guards.
Buddha Issara defended the guards' defence of traffic cones, claiming that the guards are tasked with establishing safe perimeters around the protesters to prevent potential assailants from approaching the demonstrators and lobbing grenades at them.
The monk also credited PCAD guards with successfully preventing any fatalities from occuring in the rally site on Chaeng Wattana Road, despite frequent grenade attacks targeted at the campsite over the past few months.
"I admit that sometimes the guards' actions affect other people, but we have always apologised and offered compensation for the damages," Buddha Issara was quoted by Daily News as saying. "If those persons want to sue us, we also accept that."
The police have not attempted to arrest any of the PCAD guards accused of committing violence or searched their outposts, despite evidence that many of the militants possess firearms.
For comments, or corrections to this article please contact:[email protected]
You can also find Khaosod English on Twitter and Facebook
http://twitter.com/KhaosodEnglish
http://www.facebook.com/KhaosodEnglish