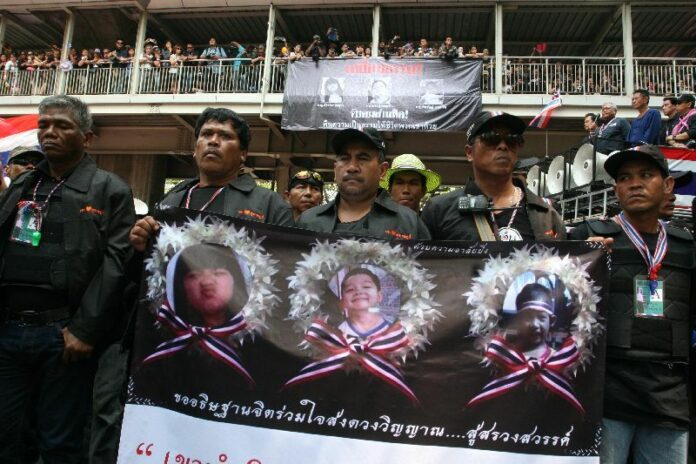 BANGKOK — A savage stabbing by a group of anti-government militants has left an ice delivery man in a coma, police and witnesses said.
The incident was first reported on social media by several people who said they witnessed the assault.
The victim was later identified by his family as Thanakrit, a native of Ang Thong province who has been working as an ice delivery man in Bangkok. His family has requested his surname not be published, citing fears of possible retaliation by anti-government protesters.
According to Mr. Thanakrit's family, he was driving a pick-up truck to deliver ice to a customer on Phahon yothin Road at around 11 p.m. on 10 May when he encountered a protest site maintained by the People's Committee for Absolute Democracy With the King As Head of State (PCAD) in front of the Channel 5 TV station.
After Mr. Thanakrit knocked over a traffic cone placed on the road by PCAD guards, the guards reportedly surrounded his car and stabbed him repeatedly, despites protests from Mr. Thanakrit's pregnant wife who was in the truck as well.
Mr. Thanakrit was taken to the hospital by a group of bystanders who witnessed the assault, his family said.
Udom Chaowarin, the director of Ratchawithi Hospital, said Mr. Thanakrit's lung and liver were severely damaged by the stabbing and he remains unconscious in the hospital's ICU.
Mr. Thanakrit's wife told Khaosod that Mr. Thanakrit accidentally knocked over the traffic cone because it was raining heavily and he could not see the obstacles on the road.
Mr. Thanakrit's wife, who spoke on the condition of anonymity due to fear of possible retaliation, said she told Mr. Thanakrit to exit the vehicle and apologise to the PCAD guards after he knocked over the traffic cone. The guards mobbed and stabbed Mr. Thanakrit as soon as he got out of his car, she said.
Mr. Thanakrit's pregnant wife added that she tried to plead for mercy on behalf of her husband but it was to no avail. She ultimately decided to flee for her own safety.
She later returned to the scene with others to find Mr. Thanakrit's unconscious body wrapped in a black bag, presumably by the PCAD guards. They immediately took Mr. Thanakrit to hospital.
Mr. Thanakrit's wife insisted that she and her husband were not members of any political group.
"We have never attended any rally at all. I told my husband to park his car and apologise because I never thought this kind of incident would happen," Mr. Thanakrit's wife said. "I want to ask why our country has come to this."
She continued, "Right now I don't want to demand anything at all. I don't want to give interviews on TV because I fear for my safety. I just want my husband to survive and recover back to normal."
Pol.Maj.Gen. Wichanwat Borirakkul, a commander of the Bangkok Metropolitan Police, told Khaosod that the victim's family filed complaints with Phayathai Police yesterday.
A group of investigation officers have been dispatched to collect evidence at the scene and study CCTV footage, while Mr. Thanakrit's wife and other witnesses will be interrogated by the police, Pol.Maj.Gen. Wichanwat said.
PCAD guards, some of whom carry firearms, have intimidated and assaulted members of the public for disturbing traffic cones in the past.
On Friday, a group of PCAD guards reportedly attacked a motorist on the elevated toll way near Don Mueang Airport after he attempted to remove a traffic cone placed by the guards.
In April, an army colonel was beaten and shot at by PCAD militants after he attempted to remove a traffic cone on Chaeng Wattana Road.
For comments, or corrections to this article please contact: [email protected]
You can also find Khaosod English on Twitter and Facebook
http://twitter.com/KhaosodEnglish
http://www.facebook.com/KhaosodEnglish