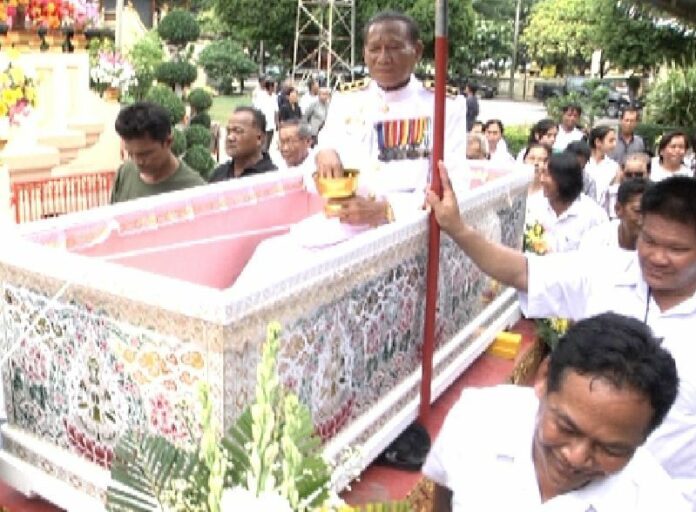 BANGKOK — A 82-year-old war veteran organized his own funeral at Wat Suwannakhee in Suphanburi Province today to see for himself what the ceremony will look like before he dies.
Samran Meejai lay down in his coffin in uniform, while relatives and friends carried him around the crematory site clockwise three times.
"I wanted to see those who came to my funeral, because when I die I will not have a chance to see their faces," Mr. Samran told Khaosod.
Twenty-one monks participated in the funeral. After Mr. Samran's biography was recited, his family friends placed 'Dok Mai Jan' – artificial flowers made of wood – into the coffin.
Mr. Samran told Khaosod that served in the King's Guard Battalion and joined the Royal Thai Army during the wars in Vietnam and Korea. He was promoted to Army Captain before he retired.
Mr. Samran also used the 'dress rehearsal' funeral as an opportunity to donate to a local school and temple.
"When we are still alive, we should keep contributing to humanity. Do not take advantage of others, help those who is in need," Mr. Samran said.
For comments, or corrections to this article please contact: [email protected]
You can also find Khaosod English on Twitter and Facebook
http://twitter.com/KhaosodEnglish
http://www.facebook.com/KhaosodEnglish