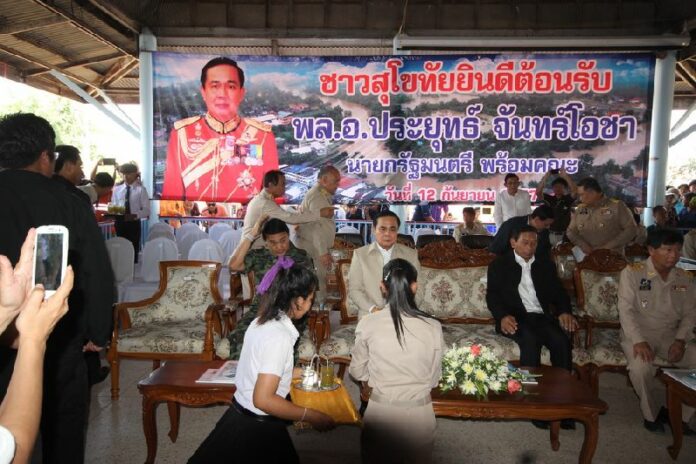 BANGKOK — Junta chairman turned Prime Minister Prayuth Chan-ocha has asked the government to keep his face off of public posters and banners, drawing a distinction between himself and other military strongman around the world.
Gen. Prayuth told his rubber stamp parliament yesterday that he would like to see more promotion of the Twelve Values he penned for Thai youth, but discouraged the lawmakers from using his portrait in the PR effort.
"Schools and state agencies should display the Twelve Values, but without my photos," Gen. Prayuth said in an address to the National Legislative Assembly, whose members were handpicked by Gen. Prayuth and other junta leaders last month. "You must refrain from putting my photo on the streets."
The Twelve Values, bestowed by Gen. Prayuth to Thai children in July, are the following:
1. Loyalty to the Nation, the Religion, and the Monarchy
2. Honesty, sacrifice, endurance, and noble ideology for the greater good
3. Gratitude for parents, guardians, and teachers
4. Diligence in acquiring knowledge, via school studies and other methods
5. Preserving the Thai customs and tradition
6. Morality and good will for others
7. Correct understanding of democracy with the King as Head of State
8. Discipline, respect for law, and obedience to the older citizens
9. Constant consciousness to practice good deeds all the time, as taught by His Majesty the King
10. Practice of Self-Sufficient Economy in accordance with the teaching of His Majesty the King
11. Physical and mental strength. Refusal to surrender to religious sins.
12. Uphold the interest of the nation over oneself.
Gen. Prayuth's request came amid a spike in foreign media reports painting the junta chairman as an increasingly idiosyncratic and authoritarian ruler.
Gen. Prayuth, who is also commander-in-chief of the Thai army, led the coup on 22 May and was chosen as Prime Minister – he was the sole candidate – by a puppet parliament last month. He also retained his seat as chairman of the junta's governing body, the National Council for Peace and Order (NCPO), which grants him supreme power over the interim government.
Banners and posters bearing Gen. Prayuth's image have been placed around public places in Thailand since the military junta took power on 22 May. Photos of Gen. Prayuth and other members of the NCPO are also depicted on state-owned TV channels whenever the junta leader makes a televised speech.
For comments, or corrections to this article please contact: [email protected]
You can also find Khaosod English on Twitter and Facebook
http://twitter.com/KhaosodEnglish
http://www.facebook.com/KhaosodEnglish