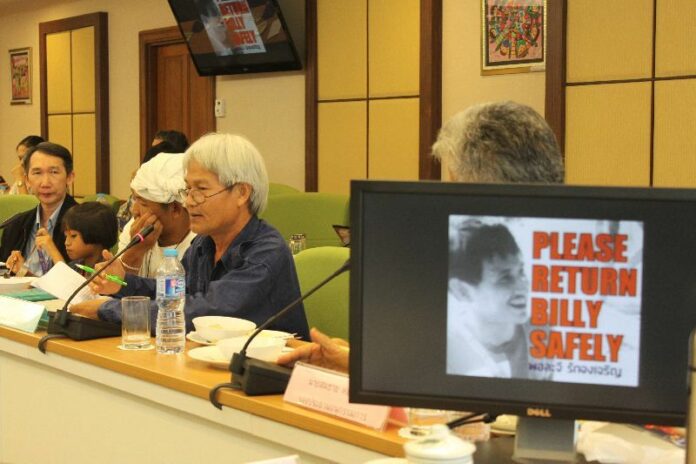 PETCHABURI — The family of a Karen activist who went missing five months ago is urging a provincial court for the second time to investigate his mysterious disappearance.
Porlachee "Billy" Rakchongcharoen was traveling between Karen communities inside Kaeng Krachan National Park when he went missing in April. The park's director, Chaiwat Limlikhit-aksorn, said he detained Billy briefly for "honey theft" before releasing him several hours later, though the activist has not been seen or heard from since.
Judges dismissed an earlier effort by Billy's family to convene an emergency inquiry to determine whether Mr. Chaiwat played a role in the activist's disappearance. Today, Billy's wife, Pinnapa Prueksawan, appealed the decision.
"I am filing an appeal because I feel that no justice is being done for Billy," Ms. Porlachee said. "It's been five months since he was detained by Park officials, but we still don't know about his fate."
She added, "I want the court to be fair and transparent, so we can know where Billy has gone to. My five children keep asking me, when is dad coming home? Why is he not coming home?"
For years, Billy had been campaigning on behalf of Karen communities in the park who faced eviction from park officials, even though they settled in the forest long before it was declared a protected area.
He was also a key witness in a lawsuit accusing park officials of using intimidating tactics to persuade the Karens to leave the park, such as allegedly torching a Karen village in 2011. That same year a Karen activist in Billy's network was shot dead in what local residents suspect to be an assassination ordered by the authorities.
Mr. Chaiwat, the park director feared by local Karens, was briefly transferred from Kaeng Krachan National Park to allow an impartial investigation into Billy's disappearance. However, he was reinstated on 24 August, a move that attracted criticism from international rights groups.
Mr. Chaiwat has repeatedly denied the allegation that he was involved in Mr. Porlachee's disappearance, but a lawyer from the Thai Lawyers for Human Rights says the park director's testimonies and alibi are highly questionable.
"The testimonies from witnesses contradict each other. They are suspicious and illogical," Warapon Uthairangsi told Khaosod today. "Furthermore, Mr. Chaiwat, who was the last person to meet Billy, has many disputes with Billy."
The court has seven days to decide whether it will accept the appeal, Ms. Warapon added.
The court previously rejected Billy's family's request for an emergency trial on the grounds that there was not sufficient evidence linking Mr. Chaiwat to Billy's disappearance.
For comments, or corrections to this article please contact: [email protected]aosod.co.th