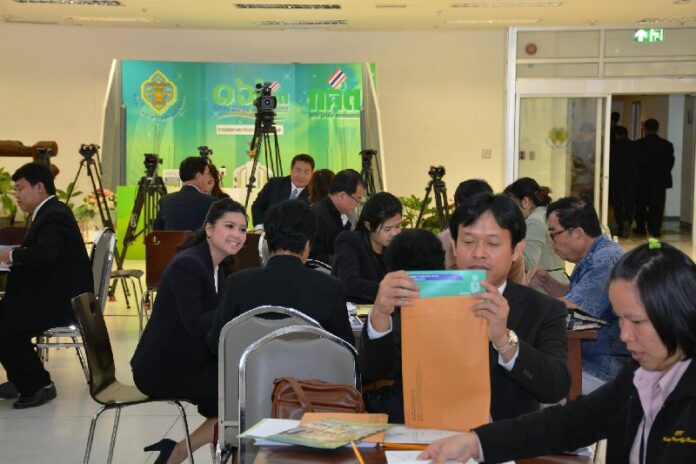 BANGKOK — Thailand's military junta has scrapped its plans to appoint members of a national reform body through a selection committee and instead decided to choose the council's members on its own.
The junta initially set up a 14-member selection committee to narrow a pool of over 6,000 candidates for the 250-member National Reform Council (NRC), which will be tasked with implementing a wide range of reforms in Thailand over the next year.
But in an announcement signed on 19 September, which was only made public on Friday night, the junta's National Council for Peace and Order (NCPO) abolished the committee and granted itself the power to determine the makeup of the NRC.
"The NCPO is already assisted by experts and advisers to consider the matter," NCPO spokesperson Col. Winthai Suvaree said yesterday. "So there is no need to set up a new committee."
Thailand is officially ruled by a semi-civilian interim government, but the NCPO is authorized through the 2014 interim constitution to unilaterally intervene in the administration of the country "regardless of its effects on the legislative, executive or judiciary."
The latest move by the NCPO will ensure that the junta retains significant influence over all prominent bodies of the interim administration. Members of the National Legislative Assembly (NLA) and the Cabinet were similarly handpicked by the NCPO and junta chairman Gen. Prayuth Chan-ocha has taken up the post as Prime Minister.
According to the junta's "roadmap" for Thailand's return to democratic rule, the reform council will work with the NLA and the government to enact reforms across numerous sectors of Thai society, including politics, economy, culture, and media.
The junta says a national election will be held in October 2015 at the earliest, if the reforms and "national reconciliation" process are completed by that time.
For comments, or corrections to this article please contact: [email protected]