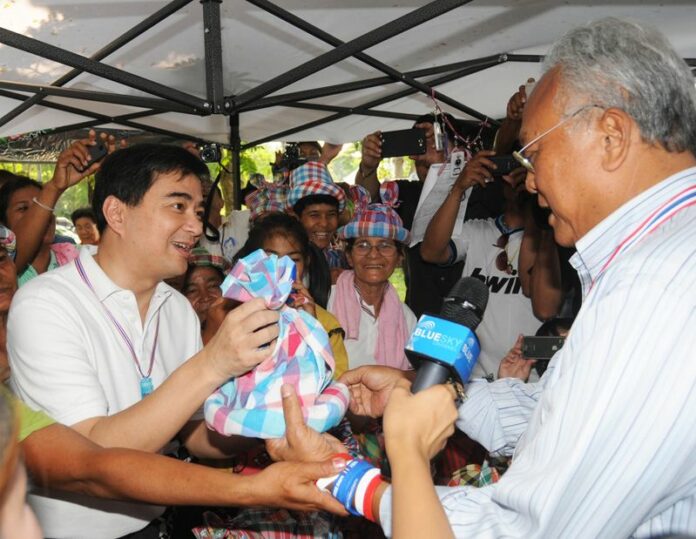 BANGKOK — Leading members of the Democrat Party have denied the allegation that their party supported the six month anti-government protest campaign launched at the end of last year.
The comments came in response to a complaint filed by Redshirt activist Sa-ngiam Samranrat asking the Constitutional Court to dissolve the Democrat Party on the grounds that it engaged in politics through non-parliamentary means.
Mr. Sa-ngiam's complaint was based on the involvement of prominent Democrat party leaders in the six months of street protests staged against then-Prime Minister Yingluck Shinawatra starting last November. The former secretary-general of the Democrat Party, Suthep Thaugsuban, became the leader of the protest movement.
"The party did not organise the protests," Wirat Kalyasiri, director of Democrat Party's legal department, said on Thursday, explaining that Mr. Suthep and other Democrat leaders had already resigned from the party when they joined and organised the protests.
The People's Committee for Absolute Democracy With the King As Head of State (PCAD) started its campaign against Ms. Yingluck in December 2013, demanding that she be replaced by a royally-appointed Prime Minister and an unelected "People's Council." The protests came to an end on 22 May 2014 when the military seized power in a coup d'etat.
Mr. Suthep and seven other Democrats resigned from their party in November last year to the lead the escalating protests, which were sparked by the government's attempt to pass a bill that would have given amnesty to Ms. Yingluck's brother, former PM Thaksin Shinawatra, who currently lives in self-imposed exile to avoid corruption convictions.
"They resigned to demonstrate and struggle for the right cause in a democratic way," Mr. Wirat said. "Society has always been aware about our party's stance on this issue."
The Democrat Party's legal adviser also insisted that previous court rulings deemed the PCAD protests legal, peaceful assembly.
Nipit Intarasombat, deputy chairman of Democrat Party, said the public should understand that his party never agreed to endorse the PCAD protests. He stressed that all illegal actions committed by former Democrat members during the campaign should not be used to prosecute the party as a whole.
In 2007, Democrat Party was spared from a party dissolution verdict by the Constitutional Court in a lawsuit related to its boycott of the April 2006 national election. However, the court dissolved the former ruling Thai Rak Thai Party on the grounds that it allegedly bribed a number of smaller parties to participate in the boycotted election.
For comments, or corrections to this article please contact: [email protected]