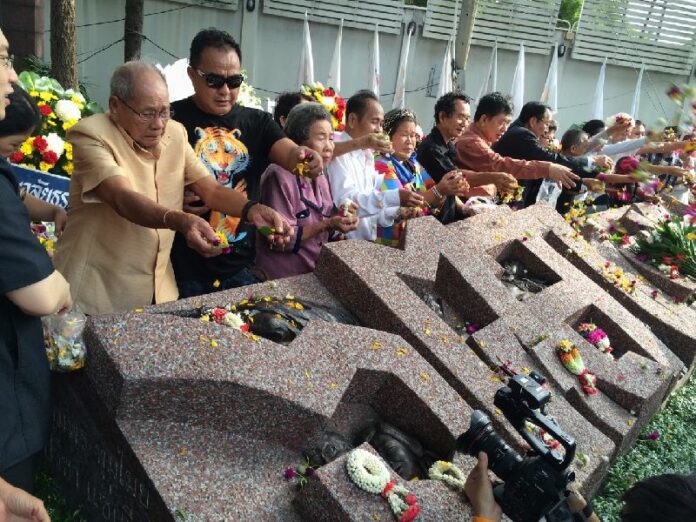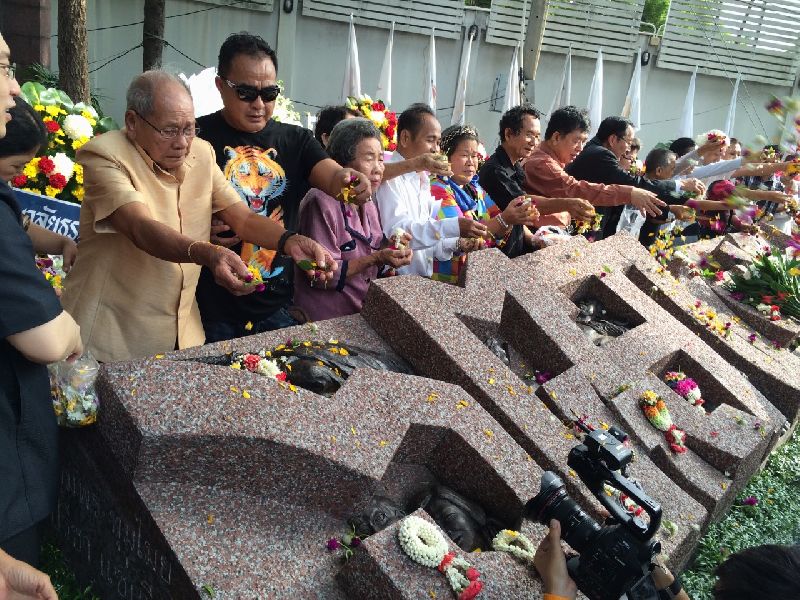 BANGKOK — Survivors and relatives of the victims of the October 1976 student massacre gathered at Thammasat University today to quietly mark its 38th anniversary, under orders from the university's administrators to refrain from any political discussion.
Over 50 participants laid flowers at the massacre's monument and listened to speeches that praised the student activists who perished in the incident as "martyrs" of Thai democracy. The ceremony was co-hosted by several activist groups.
Official records says 46 protesters died on 6 October 1976 when heavily-armed police officers and paramilitary forces stormed Thammasat University to disperse thousands of leftist student activists who were staging a peaceful rally there. However, historians believe the actual death toll was much higher. That evening, the military launched a coup to "restore order."
Per orders from Thammasat's administrators, this year's commemorative ceremony lacked the usual academic seminar about the history and impact of the incident.
However, a number of activists managed to make some political remarks during their commemorative speeches this morning. Suthachai Yimprasert, a history professor at Chulalongkorn University and a co-organiser of the ceremony, said he wondered if Thailand has learned any lessons from the tragic events in 1976.
"There are two significant events on 6 October 1976: there was a crackdown on students, and there was a military coup," said Suthachai, who was also a student activist at the time of the massacre. "I can't believe that these events kept happening, 38 years afterwards. There have been three coups since that day."
Suthachai added that October 1976 was by no means the last instance of political bloodshed in Thailand, as evident by the events of May 1992 and May 2010. He said he fears "similar tragedies may continue to happen in the future."
Weng Tojirakarn, a core leader of the Redshirt movement, gave a speech calling on the military junta to repeat martial law and "honour" its promise of a peaceful transition to democratic rule.
"Please honour your word. Don't forget that people are the owners of the country," Mr. Weng said. "I also would like the junta to consider lifting martial law, so that people will have the freedom to express their opinions about how the country should be reformed."
Jinda Thongsin, whose son Jarupong Thongsin was killed in massacre, said he is sad to have lost his son, but has found solace to know that Jarupong "died for his country."
Police officers quietly observed the ceremony from a distance and did not interfere with the commemoration.
The event was relatively low-key compared to previous years due to a lack of formal endorsement from Thammasat University's administrators. Unlike past years, the university provided neither audio equipment nor refreshments to participants. The only representative from the administration who attended the ceremony was deputy rector Nakarin Mektrairat.
Thammasat University's administrators have been accused of collaborating with Thailand's pro-establishment factions in recent years, which critics say is a deviation from the university's traditional role as a bastion of democracy and liberalism in Thailand.
The criticism intensified after Thammasat rector Somkid Lertpaithoon accepted a position in the junta's National Legislative Assembly in August.
October 6 massacre remains a sensitive subject in Thailand, largely due to the involvement of staunch royalists in the incident. For months prior to the massacre, a number of right-wing politicians, military officers, and media agencies accused the student activists of being "Communists" who were plotting to overthrow the monarchy.
No official has ever been prosecuted for the massacre. In 1978 the government issued amnesty for both perpetrators and victims of the incident.
According to student activists at Thammasat University's Lampang Campus in northern Thailand, the military ordered them not to hold any ceremony – political or religious – to commemorate the 1976 massacre, Prachatai reported. The students reportedly received a formal letter from a regional military unit telling them that the event risked "sowing divisions" in the society.