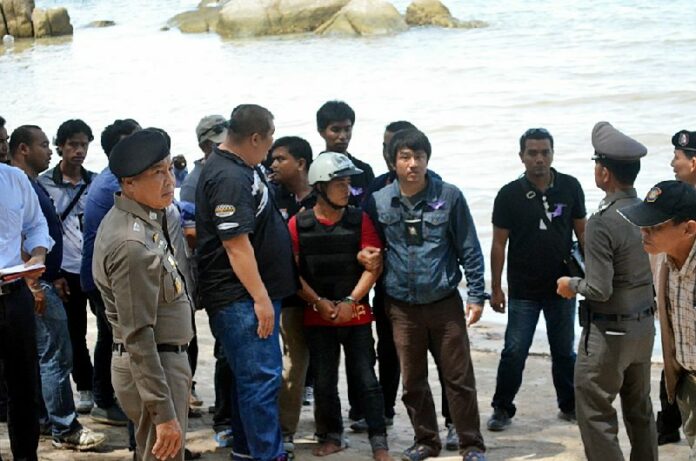 Due to Thai police's unprofessionalism and history of forced confessions, an impartial review of the Koh Tao murder case is needed to ensure justice.
Last week, Thai police arrested two Burmese men and accused them of murdering two British tourists on Koh Tao island on 15 September. According to police, not only did the two men confess, but their DNA samples matched DNA traces found on one of the victim's bodies. The two men, named Saw and Win, are facing charges that could be punished with the death penalty.
Thai police have been under an immense amount of pressure to arrest a suspect behind the murder, with authorities and local residents concerned that the incident could damage Thailand's already-ailing tourist industry. There has also been societal pressure for Thailand to avoid "losing face" over the barbaric murder, which has perhaps prompted police to point the finger at non-Thais from the start.
So far, the police investigation has been disturbingly unprofessional: the crime scene was not properly sealed off in the wake of the murder, police have made blunders as embarrassing as misidentifying the victims in photos distributed to the press, and a series of confusing and contradictory public statements have left many questions about basic details of the case unanswered.
There are also legitimate concerns that the alleged confessions of the two Burmese suspects were obtained under duress. Thai police have a history of using physical abuse to extract false confessions that are later retracted, and there was no lawyer present during Saw and Win's interrogation. Last week, two other Burmese migrant workers on the island said they were beaten by police when they did not confess to the murder.
Given the extremely high stakes of this criminal case – Saw and Win's lives are on the line – we believe it is necessary for Thailand to go to great lengths to confirm the guilt of these two men.
Currently, the key evidence in the case are the DNA traces found on Hannah Witheridge, who is believed to have been raped by two men prior to her death. Police have insisted that the DNA samples collected from Saw and Win matched the semen found in Witheridge's body.
However, while it is unclear when Saw and Win's DNA samples were taken, their "matching" results were announced less than 24 hours after their arrest. It typically takes 48-72 hours for authorities in other countries to process DNA results.
Therefore, we believe it is necessary for an independent body to investigate the forensic evidence that has allegedly implicated the two men. The investigation should be carried out by a foreign authority that has accredited technological facilities to verify the DNA results.
The independent inquiry should (1) confirm that none of the DNA samples have been tampered with, and (2) evaluate the alleged match between the two suspects and the DNA traces acquired from Witheridge's body.
If these conditions are not met, we fear that Thai police will add to their legacy of falsely accusing innocent people. In 1986, for example, four men were falsely convicted and imprisoned for the murder of Thai-American teenage girl Sherry Ann Duncan. Although the Supreme Court acquitted the defendants six years later, one defendant had already died behind bars and another died several years later from a disease he contracted in prison.
In 2000, Thai police kidnapped and physically abused an ethnic Karen in an effort to extract a confession for the rape and murder of 23-year-old British tourist Kirsty Jones.
We believe an impartial review of the forensic evidence in the Koh Tao case is needed to ensure a fair trial for Saw and Win, who have already been wrongly denied legal representation.
Allowing an independent inquiry would also provide Thai police, who have vehemently
dismissed
the scapegoat allegations, the opportunity to satisfy critics and prove their competence.
Last week, the United Kingdom's ambassador to Thailand offered technical assistance from British authorities to aid the investigation. It's not too late for Thai police to accept.