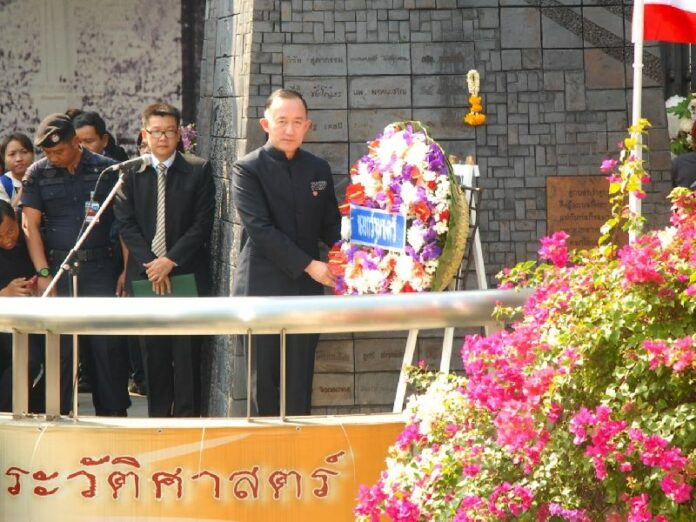 BANGKOK — Junta chairman and Prime Minister Prayuth Chan-ocha sent a close aide to represent him at this morning's commemoration of the 41st anniversary of the student uprising against Thailand's military government in 1973.
Panadda Diskul, head of the Prime Minister's Office, attended the ceremony held by a memorial for the October 14th uprising on Ratchadamnoen Avenue this morning.
A handful of other high-ranking officials also participated in the service, including Surachai Liangboonlertchai, deputy speaker of the National Legislative Assembly, and Amara Pongpapitchaya, chairwoman of the National Human Rights Commission.
The event, organised annually by the "October 14 Foundation," involved making merit to monks on behalf of the 70+ people who died in the uprising, and reading eulogies praising their "sacrifice" for Thai democracy.
The October 1973 uprising was sparked by the arrest of 20 activists who were calling to replace the military junta at the time with a permanent constitution and elected government. In response, student activists organised a rally at Thammasat University to demand their release, quickly drawing crowds of students from other universities and schools in Bangkok.
On 13 October, hundreds of thousands of demonstrators flooded Ratchadamnoen Avenue in a show of support. The military attempted to disperse the protesters on the following day, leading to riots and clashes in the capital city that killed at least 70 people.
The leaders of the military junta, including Field Marshal Thanom Kittikachorn, fled the country a day later, ending more than a decade of military rule in Thailand.
Lamiad Boonmak, whose husband Jira Boonmak was the first person to die in the uprising, said at the remembrance ceremony this morning that she has never been adequately compensated.
"I have been pressing the authorities to push for a financial compensation for the families of the martyrs who died or were injured in the October 14 incident, for 7,000 baht for month," Lamiad said. "The petition is still being considered by the Ministry of Social Development and Human Security."
Lamiad also said she was surprised by the military coup on 22 May, as she did not expect to see another resurrection of military rule in Thailand, but added that she understood the military's intention to solve "political conflicts" and prevent bloodshed.
"The military takeover contradicts the ideals of the 14 October martyrs, but since it already happened, I have to accept it. I and other families of the martyrs are hereby calling on Gen. Prayuth to quickly return power to the people, create a new constitution, and hold an election."
She also called for amnesty for political prisoners from both the Redshirt and Yellowshirt factions to promote "reconciliation" for the country.
Several student activist groups in Bangkok are also planning to hold events commemorating the uprising later today, in defiance of the current military junta's ban on all political gatherings, protests, and academic seminars.