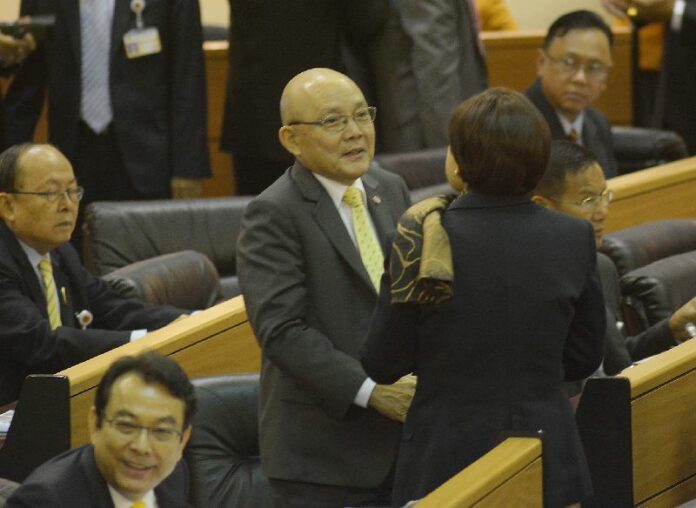 BANGKOK — The new chairman of the National Reform Council (NRC) has dismissed allegations that he and his deputy belong to a clique of conservative academics known as the "Chulalongkorn Connection."
"We graduated from the same institution, that's a fact," said Thienchay Keeranan, who was chosen as chairman by other NRC members yesterday. "But there's nothing wrong about that. Educational institution wasn't a factor behind the consideration of who would be the head of the NRC."
A number of media outlets previously described Thienchay and his deputy, Bowornsak Uwanno, as members of the "Chulalongkorn Connection," which is said to be cultivating influence in the military government. Two other alleged members of the "Connection" are Deputy Prime Minister Visanu Krue-ngam and Suchada Keeranan,Thienchay's wife, who sat on the committee that pre-screened candidates for the NRC before the list was finalized by the military junta.
The name derives from the group's history as high-ranking administrators at Chulalongkorn University, a prestigious university long-known as a stronghold of conservativism in Thai society. Thienchay and Suchada served as rectors of the university, while Bowornsak and Visanu are members of the school's governing council.
But Thienchay insisted today that their past association is irrelevant.
"I believe that, for my colleagues in the NRC, it doesn't matter which educational institution we are from, because our goal is Thailand. We are wearing the Thailand shirt. There's no colour in this shirt. If there's any colour, it would be the colours of our national flag," Thienchay told reporters.
Thienchay also denied speculation that he and Bowornsak, a hardline critic of the former government, secured their top positions in the NRC because of a "lock spec" scheme engineered by the junta's National Council for Peace and Order (NCPO).
"I don't know anything about that," Thienchay said, "This is the first time I ever heard that my name was being considered. That is a surprise for me, because I was only approached about being the chairman at the vote yesterday."
According to the 2014 Interim Constitution, which Visanu helped draft, the NRC will be responsible for implementing reforms across a wide range of spheres, including politics, economics, the judiciary, and mass media. The junta promises that a national election will be held after the reforms and "national reconciliation" are completed.