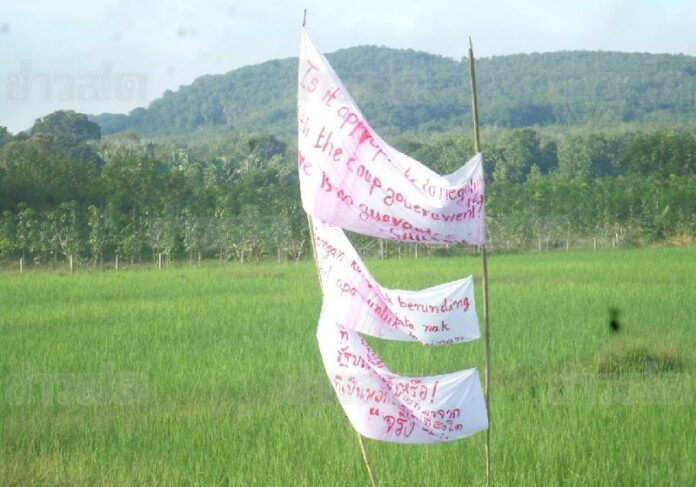 YALA — Suspected insurgents in southern Thailand have hung dozens of banners across the region questioning upcoming peace talks with Thailand's military government.
Security officers say the banners were found between 5 and 6 am this morning in many districts across Pattani, Yala, and Narathiwat provinces, an area known as Thailand's "Deep South." Similar banners were also hung in Songhkla province's Saba Yoi district, which neighbours the Deep South region.
The banners, written in Thai, English, and Malay, read: "Is it appropriate to negotiate with the coup government? There is no guarantee for sincerity."
The statement appears to refer to tentative "peace talks" between Thai authorities and representatives of the Islamic insurgent groups in the Deep South that will be mediated by the Malaysian government. Thai officials hinted that the government is willing to participate in the talks, though no further details have been released.
The banners surfaced on the same day Thai Prime Minister and junta chairman Prayuth Chan-ocha departed for Malaysia to meet with Malaysian PM Najib Razak. The peace talks are expected to be one of the major talking points during the two leaders' meeting.
Homemade explosives were placed near some of the banners, apparently in an effort to kill or wound removal teams, officials said. In one incident, soldiers and police officers narrowly escaped injury when a homemade bomb exploded after they finished taking down a banner in Yala's Muang district at around 8 am today. Other bombs were defused without any incident.
One suspect has been arrested in Pattani this morning on suspicion of hanging the banners.
At least 6,200 people have been killed since secessionist violence broke out in the Deep South in 2004. The bloody campaign has been waged by shadowy militant groups that seek to revive the independent sultanate of Pattani that was incorporated into modern Thailand in the early 20th century.
In contrast to the rest of country, where the vast majority of Thais are Buddhist, the Deep South is dominated by Muslims who speak a Malaysian dialect and often do not consider themselves Thai.
In 2013, former Prime Minister Yingluck Shinawatra's government attempted to resolve the protracted conflict in the Deep South by organising a ground-breaking "peace dialogue" with several groups believed to have been responsible for a many attacks in the restive region.
However, the process was eventually aborted, partly because of resistance from hawkish factions in the armed forces who insisted that Bangkok should not negotiate with the insurgents. The talks were also derailed by anti-government protests that erupted in 2013 and debilitated Yingluck's government.
After six months of prolonged street protests, Gen. Prayuth seized power in a military coup on 22 May 2014. The Thai military junta has promised to bring "peace" to the southern region "within a year."
Last week, the government approved a fresh shipment of firearms for state-organised "armed volunteers" in the Deep South.
Related articles:
Southern Separatist Banners Mock 'Happiness' Policy
Southern Unrest: Roadside Bomb Injures Teacher Bodyguards