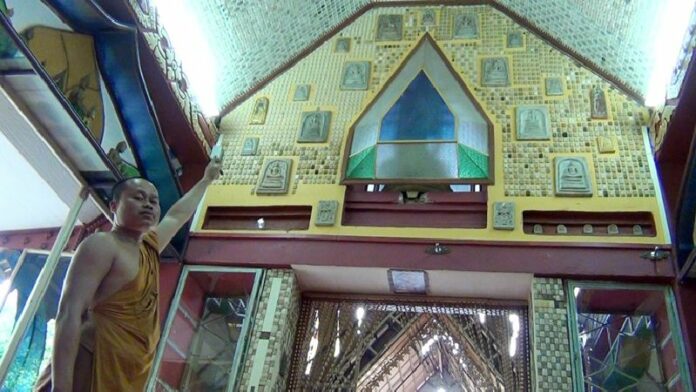 UDON THANI — A temple in Udon Thani is nearly finished with the ambitious project of covering a Buddha statue with 300,000 coins of Thai and foreign currencies.
Phra Jedsada Mahalapo, a deputy abbot of Wat Tong Toom Kum Temple, said the 9-metre Meditating Buddha statue already has more than 200,000 coins on its surface, thanks to donations from enthusiastic temple-goers.
The artwork includes rare coins, some dating back to the reign of Rama IV, and foreign currencies, Phra Jedsada told Khaosod.
"It was the abbot's idea to decorate the Buddha statue with coins," Phra Jessada said. "Because coins bear the portrait of His Majesty the King on one side and pictures of important places around Thailand on the other, we instructed the artists to show both sides of the coins. We want to preserve these coins for the future generation to see."
He added that members of the public are welcomed to see the artwork for themselves and donate their own coins if they wish to do so.
Apart from the 9-metre Meditating Buddha, the temple's 7.9-metre Reclining Buddha and walls around the prayer chapel are also decorated with more than 130,000 coins.