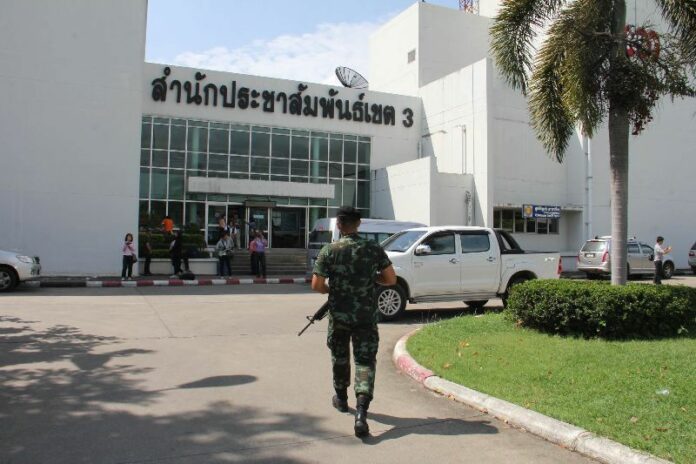 NAKHON RATCHASIMA — Military officers have threatened to revoke the licenses of community radio stations in northeastern Thailand that refuse to broadcast the military junta's daily talk shows.
At a press conference this morning, local army commanders and state officials reminded radio DJs that they are required to air all official state announcements in compliance with orders from Thailand's military junta and the National Broadcasting and Television Commission (NBTC).
According to the province's NBTC director, Saksri Wongwai, "dozens" of radio stations in Nakhon Ratchasima have failed to broadcast "Thailand Moves Forward," the daily 15-minute segment produced by the state that extols the military junta's efforts to reform Thailand's economic, social, and political sectors.

The press conference on radio regulations in Nakhon Ratchasima, 16 Dec 2014.
Saksri said some radio stations have also not complied with orders to broadcast junta leader and Prime Minister Prayuth Chan-ocha's weekly national addresses, a program titled "Returning Happiness to the People."
"Most of them are community radio stations run by monks," Saksrisaid at the press conference. "These monks claim that they cannot broadcast the [junta's daily programs] because that period of time is allotted for programs about Buddhist teachings."
Saksri also warned DJs against criticising the military junta on the airwaves.
"[Some DJs] like to express their opinion in a way that may cause disputes, distort information, or create confusion in society. They like to criticise the work of the NCPO," Saksri said, using an acronym for the junta's formal title, the National Council for Peace and Order. "Such actions are a threat to the security of the state."
Under NCPO Order No. 14, media agencies in Thailand are forbidden from airing opinions that may cause "further violent conflicts and create confusion in society."
Maj.Gen. Sermsak added that all 158 registered radio stations in Nakhon Ratchasima have signed a Memorandum of Understanding with security officers agreeing to strictly comply with NBTC regulations and the junta's orders from now on.
Any radio station that repeatedly fails to adhere to the agreement will be stripped of its license, Maj.Gen. Sermsak warned.

Soldiers raid a state media office in Chiang Mai Province hours after Gen. Prayuth Chan-ocha imposed martial law on 20 May 2014.
Since seizing power from the elected government on 22 May 2014, the NCPO has extensively curtailed freedom of the press in Thailand. A number of radio and TV stations were shut down in the wake of the coup and only allowed to re-open on the condition that none of their programs criticise the junta's administration.
The army has held similar meetings with radio DJs in several other provinces around Thailand in recent weeks. Last month, more than 100 radio DJs were summoned for talks at any army camp in Chiang Mai, where they were instructed not to discuss the anti-coup protests staged by student activists in Khon Kaen and Bangkok.
There are thousands of community radio stations in Thailand, many of which have been used as tools for political organising in recent years.
Prior to the coup, many DJs in northeastern Thailand – the stronghold of the Redshirt movement that supported the former government – used their platforms on the radio to discuss political issues and spread the word about rallies and other political events.
Under the junta's orders, all political activities and gatherings are currently banned in Thailand.
For comments, or corrections to this article please contact: [email protected]