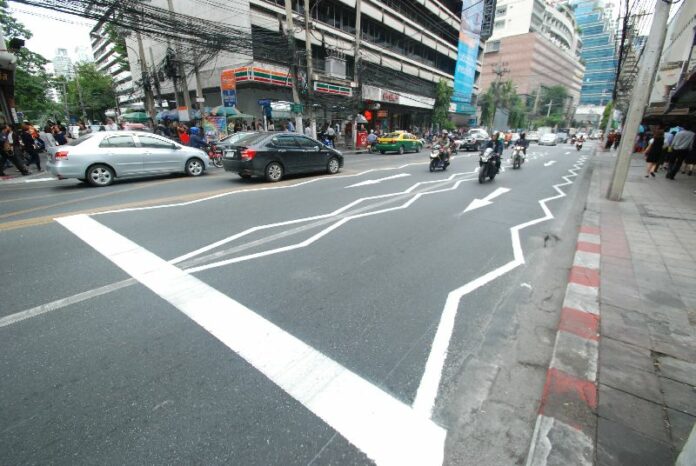 BANGKOK — The Bangkok Metropolitan Administration has painted zig-zagging lines on two roads in the city in an effort to improve pedestrian safety.
The lines, which start 15 meters before pedestrian crosswalks, have been painted on Din So Road in front of the BMA headquarters and Asoke Montri Road in central Bangkok, where a pedestrian was hit and killed by an oncoming truck last month.

Asoke Montri Road Bangkok, 12 Jan 2015.
According to Suthon Arnakul, director of the BMA's traffic engineering office, the lines will force motorists to focus on particular points on the road, and thereby drive more slowly and attentively.
"These zigzag lines have been used in many major cities around the world, such as in Europe, America, and Asia," Suthon told reporters yesterday.
He added that the lines will also be applied to other busy road-crossings in Bangkok in the near future, especially in front of schools and shopping malls.
The Transportation Research Institute ranks Thai roads as the second most dangerous in the world, with a rate of 44 deaths per 100,000 people, a number nearly twice global average.
According to statistics released by the Ministry of Interior Affairs in March 2013, up to 26,000 people are killed in road accidents every year. Of these fatalities, 70-80 per cent are motorcyclists or their passengers, the data says.