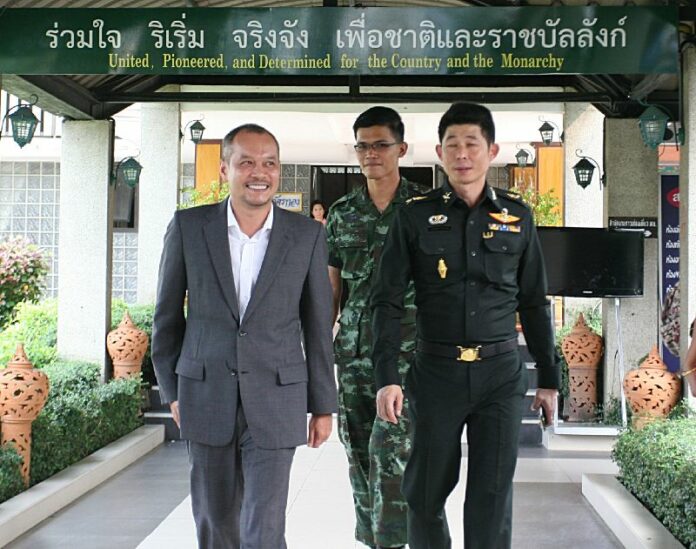 BANGKOK — Two Redshirt leaders have been released following "attitude adjustment" sessions with the military.
Nattawut Saikua, former Deputy Minister of Agriculture and Cooperative, and Chertchai Tantisirin, former Pheu Thai MP in Khon Kaen province, were summoned by the military after they publicly criticized the junta and recent political developments in Thailand.
Both Nattawut and Chertchai are also core members of the Redshirt umbrella organization, the United Front of Democracy Against Dictatorship (UDD).

Nattawut Saikua leaving the 1st Region Army headquarters in Bangkok on 30 Jan 2015.
Nattawut and Chertchai are two of several Redshirt politicians that have been summoned by the military this week for criticizing the junta-appointed legislature's impeachment of former Prime Minister Yingluck Shinawatra last Friday. Yingluck's supporters say the impeachment ruling was a politically-motivated effort to weaken the Pheu Thai party's prospects of a winning the next national election, scheduled for 2016 at the earliest.
The military junta claims the summons were intended to "create understanding" about the political situation in Thailand.
Nattawut surrendered himself to the military at 1st Region Army headquarters in Bangkok at 9 am today. He was released several hours later.
Posting on his official Facebook account after the meeting, Nattawut said that the military officers spoke to him about the reason for the 22 May 2014 military coup, the mission of the ruling junta, and the need for all sides to refrain from making political statements at this time.
According to Nattawut, the military also threatened to "impose additional measures" if he refused to cooperate.
"So I told them I was willing to cooperate," Nattawut wrote. "There won't be any movements or confrontations. But as for the issue of expressing my opinion, I think that is my right, and I am ready to take responsibility for what will happen. Please understand that I say these things because I believe in them, with sincere intention for the country. I don't have any other agenda."
He continued, "Eventually they told me, 'Well, up to you, brother, we take it that we have spoken to each other.' So I replied that if in the future there is a need to summon me again or take any measures against me, please understand that I wasn't being mischievous or disrespectful in this discussion. I am what I am."
Chertchai was released yesterday from a local military unit in Khon Kaen province after an hour long meeting. Military officers say Chertchai was summoned because he criticized Yingluck's impeachment in a Facebook post, and reportedly urged the military junta to follow an American diplomat's advice to lift the martial law in an interview with the media.
Chertchai told reporters after the meeting that the military summoned him because they didn't want any "chaos" in the country. He added that he did not want his comments calling for the repeal of martial law to stir any unrest.
"I was only giving my straightforward opinion. I don't want the interview to instigate any chaos in Khon Kaen," Chertchai said, "So I want all brothers and sisters to focus on their daily work. The economy is not good these days. I have talked with the military, it's done. I want everything to be peaceful and all the people to have unity. I want to work without getting in politics at this time."
In the weeks following the 22 May 2014 coup, more than 300 politicians, activists, and academics perceived to be sympathetic to the former government were publicly summoned and detained in military camps for up to seven days. The wave of summons orders winded down in July.
Unlike last year's summons, the orders given to politicians in recent days were not written into official documents or publicly announced on television.
Read more:
Thai Junta Renews Summons Orders to Quash Criticism
For comments, or corrections to this article please contact: [email protected]
You can also find Khaosod English on Twitter and Facebook
http://twitter.com/KhaosodEnglish
http://www.facebook.com/KhaosodEnglish