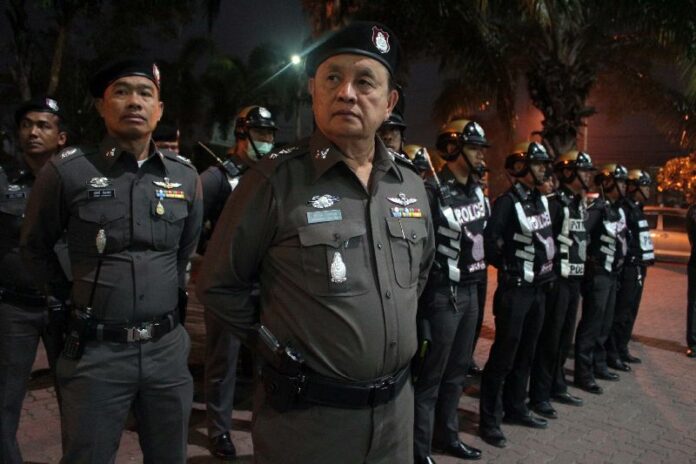 CHONBURI — Police in Chonburi province are conducting raids and deploying reinforcements in the streets following an unusually high number of crimes in the past two days.
More than eighty officers were involved in fifteen raids on the homes of suspected criminals in the province early today, said Pol.Maj.Gen. Nitipong Niamnoi, commander of Chonburi Police.
Pol.Maj.Gen. Nitipong said the police operation, which began at 6am this morning, was prompted by a spate of crimes in Chonburi province, especially in the area of Banglamung, in the past two days.
"There have been muggings, bag snatchings, robberies against foreigners, and increase use of illicit drugs," Pol.Maj.Gen. Nitipong said. "We are cracking down on crimes for the benefit of the people."
Notable crimes reported to the police since 28 January include:
– Two armed men robbed two convenience stores in Banglamung district on 30 January
– A woman and her parents were shot dead by an 'angry husband' in Sri Racha district on 30 January
– More than 20 suspects beat up four Kuwaiti tourists in Pattaya on 29 January
– Two men robbed a European tourist in Banglamung district on 29 January
– A suspect robbed a condominium security guard at gunpoint in Banglamung on 29 January
– Seven suspects participated in two robberies in Pattaya city center on 28 January
– A man was shot and injured by an alleged drug user in Sattahip district on 28 January
– A woman was reportedly raped near a nightclub in Sattahip district on 28 January