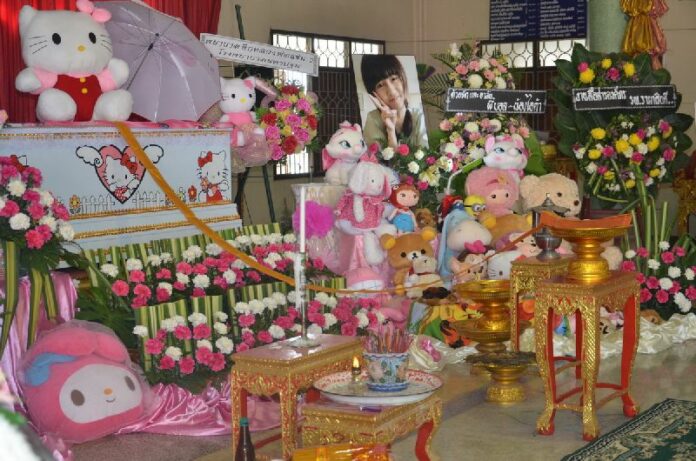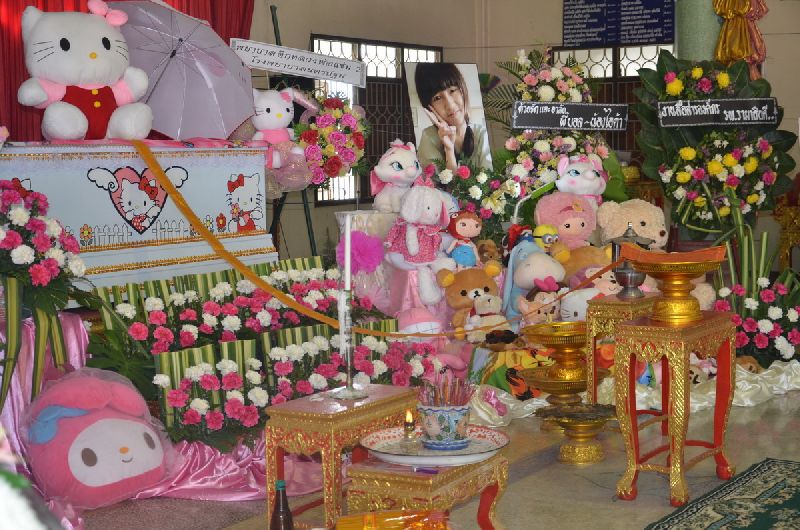 NAKHON PATHOM — A woman in Nakhon Pathom province has honored her daughter's deathbed wish by organizing a "Hello Kitty"-themed funeral for her after she passed away from bone cancer.
Pimmada "Noey" Tathong, a student at Phra Pathom Witthayalai school, died at the age of 15 last week after suffering from bone cancer for two years, her family said.
The funeral at Wat Paniangtaek Temple featured a white and pink coffin decorated with images of Hello Kitty, a popular Japanese cartoon character. Unlike traditional Thai Buddhist funerals where most decorations are colored back, the seats and veils on the funeral pavilion were pink. Guests were also asked to dress in pink rather than black.
All of the guests complied, and some of Pimmada's classmates wore cartoon costumes.
Pimmada's mother, Sunantha Tathong, 45, told reporters that the Hello Kitty theme was her daughter's wish.
Pimmada was was diagnosed with cancer on 3 August 2013 – her 14th birthday. Sunantha said Pimmada had received many treatments, including chemotherapy, but doctors said the cancerous cells were never fully eliminated.
On 21 December last year, Pimmada's condition worsened sharply and she was sent to hospital, where doctors realized that the cancer has spread to some parts of her brain, Sunantha said. Doctors also told her that Pimmada had a very short time to live.
"Noey said she could accept it and she has already prepared herself for it," Sunantha said.
Because she did not "want her mother to be sad," Pimmada asked her family to organize a Hello Kitty-themed funeral. She also told her mother to keep all of the dolls she has received as presents during her time in hospital.
"I want her to be happy, so I did everything she had requested," Sunantha said.
For comments, or corrections to this article please contact: [email protected]