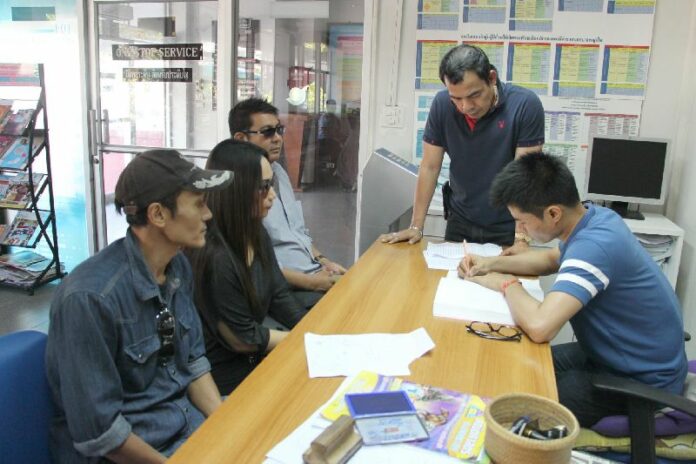 BANGKOK — The four activists who handed out free T-shirts near Bangkok's Victory Monument yesterday have been fined 100 baht each for causing a "public nuisance."
The activists, who identified themselves as members of group called "Free People of Thailand 58," were detained by security officers yesterday while they were speaking to reporters about the junta's reform process and distributing T-shirts with an image of a bird with a tied beak and feet.
The four activists were taken to Phayathai Police Station, where they underwent four hours of "attitude adjustment."
Police said they fined the activists 100 baht each on charges of "causing a public nuisance."
Pawinee Chumsri, a member of the Thai Lawyers for Human Rights Center who is representing the four activists, told Khaosod that the group was not charged with violating the junta's ban on political protests.
"The officials spoke to them and adjusted their attitude. They did not proceed with any charges of detention based on martial law," Pawinee said.
The ruling junta banned all political activities and protests after seizing power from an elected government on May 22, 2014. Those who violate the ban can face trial martial court, where appeals are not permitted, and up to two years in prison.
After he was released yesterday, the group's leader, Akkrit Noonchan, repeated to reporters that he wants the junta to organize regular public forums as part of its ongoing reform process.
The activist added that he was not aware that he could also submit his opinion without having to stage a protest.
"I misunderstood, I didn't know that the government has a forum for expressing opinions at the Government House," Akkrit said. "The officers have adjusted my attitude and understanding about that. From now on, I will cooperate with the government in developing the country as a citizen."
For comments, or corrections to this article please contact: [email protected]
You can also find Khaosod English on Twitter and Facebook
http://twitter.com/KhaosodEnglish
http://www.facebook.com/KhaosodEnglish