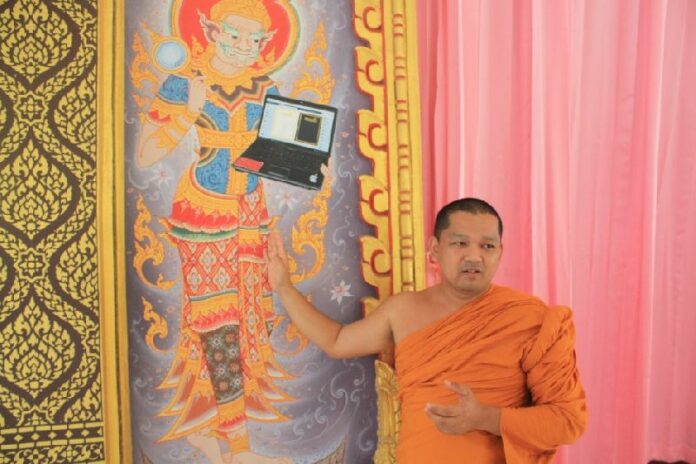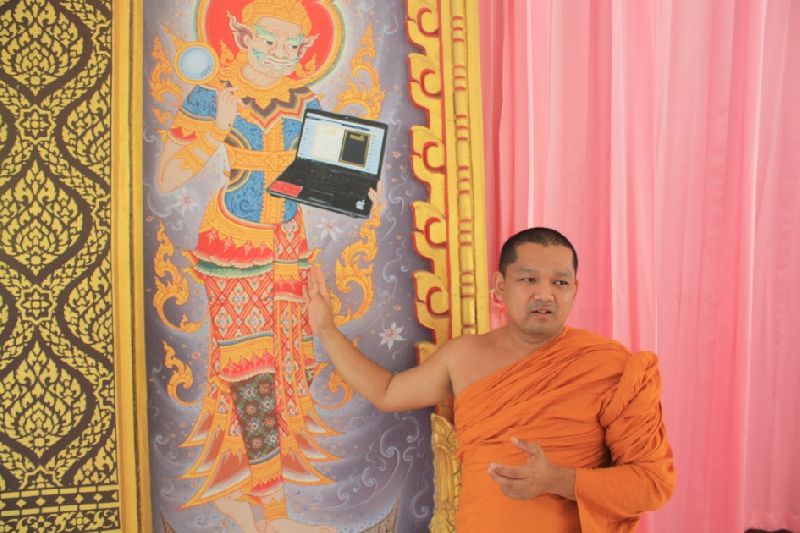 CHONBURI – A Buddhist temple in Chonburi province is drawing attention with unusual murals that depict a Buddhist deity holding a laptop and GPS.
The murals show Thao Vessuwan, the god who guards the realms of demons and keeps track of sinners in Buddhist cosmology, holding a laptop open to a Facebook screen in his left hand, and a magnifying glass that says "GPS" in the other. The lap top screen says "Good Karma" and "Bad Karma."
The mural painted near the crematory in Samae San temple compound in Sattahip district, Chonburi province.
Phra Mahasawai Santamano, the deputy abbot of Samae San temple, told Khaosod that the mural is intended to remind temple-goers that the cosmic power of karma is still reigning, despite how much the world has changed.
"No matter how much technology has improved, you still cannot escape the karmic consequence of what you have done," Phra Mahasawai said. "It is a mystery of Dhamma. The karma we collect will affect us in the present and the future. Therefore, people will be reminded that they should do more good than evil."
According to Phra Mahasawai, he also hoped the unusual murals would help pique the attention of temple-goers.
"The notebook computer, for example, is a communication tool that we know. We are attracted by the image, then we look at the other side of the painting and see the images of hell," the monk told Khaosod, "They depict the tale of Phra Malai visiting the sinners in different levels of hell. I use it as a starting point."

A angel painted with a mask resembling Doraemon, a Japanese cartoon cat.
Asked about one of the angels in the mural wearing a mask that resembles Doraemon, a robot cat from a Japanese cartoon, Phra Mahasawai said it "reflects how people like to wear [figurative] masks when they socialize with each other these days."
Related coverage:
Abbot Swaps Shrine Angels' Swords With M16s, Grenades
For comments, or corrections to this article please contact: [email protected]
You can also find Khaosod English on Twitter and Facebook
http://twitter.com/KhaosodEnglish
http://www.facebook.com/KhaosodEnglish