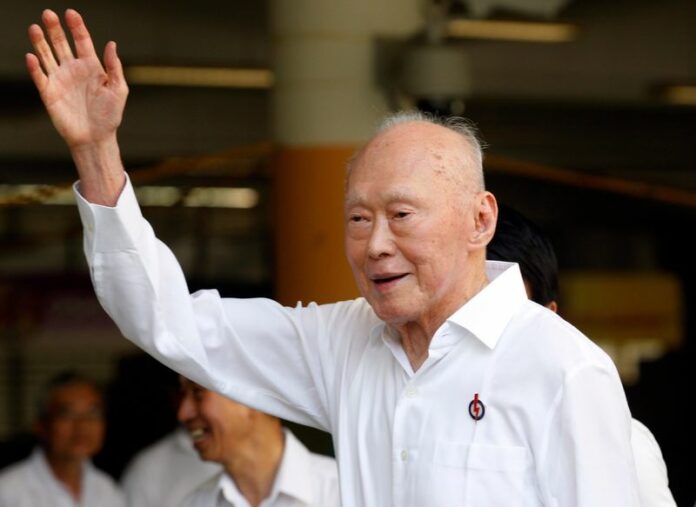 By Kirsten Han
SINGAPORE (DPA) – Singapore's first premier Lee Kuan Yew has died peacefully in hospital, the government said on Monday.
The 91-year-old was hospitalised in early February with severe pneumonia, and had been on mechanical ventilation in the intensive care unit since then.
"The Prime Minister is deeply grieved to announce the passing of Mr Lee Kuan Yew, the founding Prime Minister of Singapore," read a statement from the office of the current premier, Lee's son Lee Hsien Loong.
The prime minister declared a national period of mourning from March 23 through March 29. Lee will lie in state at Parliament House from March 25 through March 28.
A state funeral will take place on March 29.
"As Singapore's founding Prime Minister, Mr Lee dedicated his life to Singapore, and served Singapore till his final days," Singapore's President Tony Tan said in a statement.
"Without Mr Lee's strong leadership and immense contributions, the Singapore that we know today would not have existed."
Tributes to Lee poured in from around the world.
US President Barack Obama called Lee a "visionary."
"He was a true giant of history who will be remembered for generations to come as the father of modern Singapore and as one the great strategists of Asian affairs," Obama said in a statement.
United Nations Secretary-General Ban Ki-moon said he was "deeply saddened" by the death of Lee, whom he described as "a legendary figure in Asia."
"As Singapore marks its 50th anniversary of independence this year, its founding father will be remembered as one of the most inspiring Asian leaders," Ban said in a statement.
Australian Prime Minister Tony Abbot praised Lee as a "giant" of the region.
""Our region owes much to Lee Kuan Yew. Here in Australia and beyond, leaders sought and learned from his wise counsel," Abbott said in a statement.
Lee was Singapore's prime minister from 1959 until 1990, and is widely credited with having transformed the country from a small Third World port city into a thriving First World economic powerhouse.