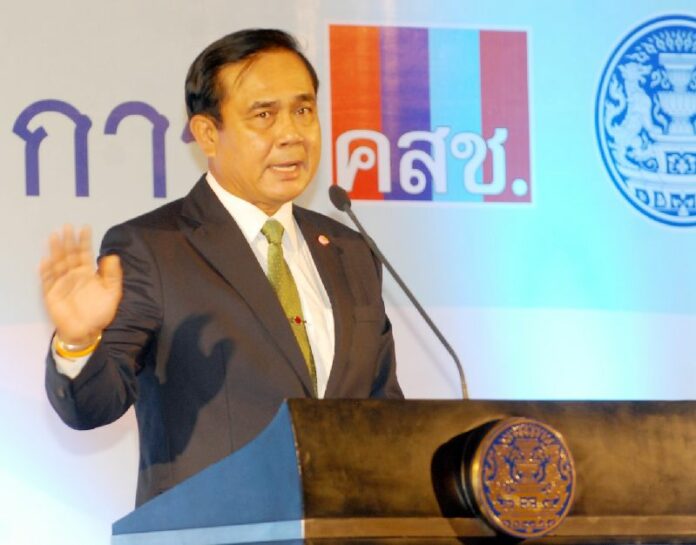 BANGKOK – Thai junta chairman and Prime Minister Prayuth Chan-ocha has sent his condolences to Singapore over the death of the country's founding Prime Minister, Lee Kuan Yew, who died early this morning at the age of 91.
"I would like to express my sadness for the passing of former [Prime Minister] Lee Kuan Yew of Singapore," Gen. Prayuth said in a speech at the national convention center this morning, "He has been ill for a long time. I have been giving him my moral support."
The junta leader continued, "He worked very hard. He was over 90 year old. He should have lived longer than that, but people who work hard tend to die fast. I don't know if I will ever live to his age. Even today, I am befuddled and confused [by the workload]."
Lee, who served as Singapore's premier from 1959 to 1990, died in a hospital on the early morning of 23 March after being treated for pneumonia since February. He was 91.
Yongyuth Maiyalap, a spokesperson for the Office of Prime Minister, said Gen. Prayuth also dispatched a formal message of sympathy to the family of Lee Hsien Loong, the current Singaporean Prime Minister and Lee Kuan Yew's son.
Because of Lee's death, Gen. Prayuth has postponed the state visit to Singapore, which was originally scheduled for 24 – 25 March.
"The Singaporean Prime Minister asked for our understanding about a postponement of the visit," Yongyuth said. "Therefore, the Prime Minister and Singaporean Prime Minister jointly agreed to postpone the trip. The two parties will decide on the new schedule in the future."
Gen. Prayuth was initially set to visit Singapore and discuss further military and economic cooperation between the two nations, Yongyuth said.
Singapore's current prime minister has declared a national period of mourning from March 23 through March 29, when a state funeral is scheduled to take place.