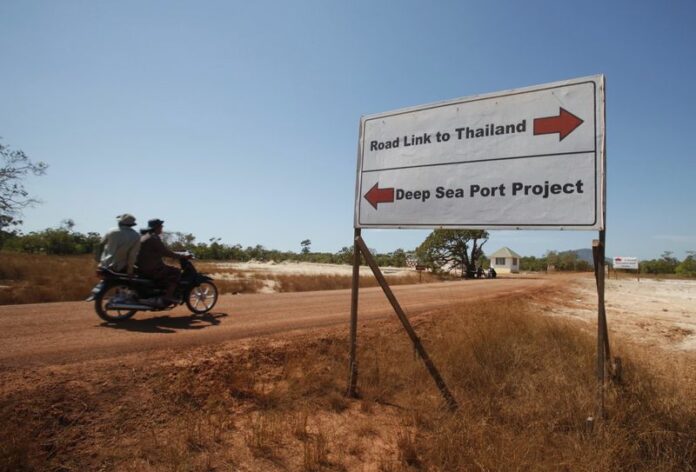 By Cod Satrusayang and Kyaw Lynn
BANGKOK (DPA) — Ma Nu May and her husband started a small cashew nut farm near the coastal town of Dawei in southern Myanmar seven years ago, but life in the past two years has been far from peaceful.
Most of her cashew trees are still lying on the ground after being bulldozed in mid-2013 in preparation for a government-backed megaproject named the Dawei Special Economic Zone (SEZ).
"I can't imagine selling my farm for only this amount of money," said Ma Nu May, who was offered 5,000 dollars for the land.
Covering just five acres, the produce from their farm brings in about 4,000 dollars per year.
"It's better for us to die rather than accepting such compensation," she said.
Time is against local farmers such as Ma Nu May.
A signing ceremony the capital Naypyidaw between Myanmar and its development partner Thailand is expected any day, starting the initial phase of development in what could be the largest project of its kind in South-East Asia.
If construction goes ahead the 50-billion-dollar Dawei SEZ aims to help Myanmar capitalize on its strategic location between India and China, after years of being deprived of foreign investment as an international pariah under military rule.
The port and industrial facilities, due to be built by Thai real estate giant Italian-Thai Development (ITD), will cover over 200 square kilometres and have the capacity to hold 250 million tons of cargo, more than the ports of Los Angeles and New York combined.
"Dawei is critical for regional infrastructure connectivity," said Chayut Setboonsarng, an analyst at a Bangkok-based think tank specializing in South-East Asia.
The zone will also feature factories, its own coal mine and power plant as well as golf courses and five-star hotels for visiting executives.
Using Dawei will shortening the travel time of freight from Europe and the Middle East to Asia as it allows goods to bypass the long oversea journey through the South China Sea, which has also been a source of regional tension in recent years.
Italian-Thai Development also say that the project will be good for the local economy by creating up to 100,000 jobs by the time the project is completed in 2025.
That's little comfort to tens of thousands of people living in the Dawei area who will be forcibly relocated, according to a local rights NGO.
"Although the project has not yet started, local people are already losing income because of land confiscations in preparation for the project," Chit Chit Win, a field researcher for the Tavoyan Women's Union, told dpa.
The group maintains that most of them will have their lands and livelihoods confiscated with little or no compensation.
"The Dawei project has barely begun, but is already destroying the economic backbone of our communities. It must be stopped before it proceeds any further," said the group's Su Su Swe.
The group may take heart from the fact that the project had previously been put on hold in 2013 after Italian-Thai were unable to secure financing.
It was put back on track by diplomatic efforts between Bangkok's new military government and Naypyidaw in late 2014.
A study by another non-governmental group, the Dawei Development Association, agrees that "the compensation process is deeply flawed."
The group concludes that the development of the Dawei Project "breaches many fundamental human rights."
ITD disagrees with this assessment.
"Most of the villagers want us to come to the area," said Pravee Kamolkanchana, the firm's marketing manager.
"We will provide many jobs both in the construction and once the factories and ports are completed," he said.
Pravee says that the company's officials have visited Dawei numerous times to talk to locals about its "new global gateway of Indochina."
The company has plans in place to build houses, hospitals, schools and even temples for the villagers in a relocation destination 10 kilometres away from the zone.
Chayut concurs that "Dawei significantly benefits local citizens and not just the major stakeholders."
Such an enormous project in the region's "prime real estate" is unlikely to be delayed, he concludes.