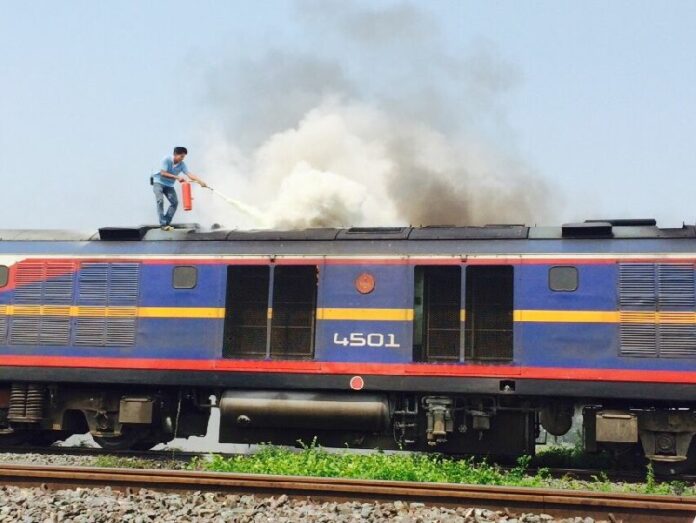 AYUTTHAYA — Two foreign tourists were among the six passengers severely injured in a train crash in Ayutthaya province yesterday, which was one of four train accidents to take place in the past week.
At least 50 people were wounded in total last night when a Bangkok – Denchai train collided into the back of a Bangkok – Nong Khai train parked approximately 10 kilometers away from Pha Chee train station.

Officials inspect the scene of the crash in Ayutthaya province, 27 March 2015.
The two trains were severely damaged by the crash, and at least eight cars derailed from the track.
As of this morning, six people were described as being in critical condition at Phra Nakhon Si Ayutthaya Hospital. The victims were identified as two train drivers, one train mechanic, one Thai passenger, and two foreign tourists from South Korea and the United States.
After inspecting the collision site, Wutthichat Kalayanamit, governor of the State Railway of Thailand, told reporters that the drivers of the Bangkok – Denchai train had ignored a stop signal.
According to Wuttichat, the Bangkok – Nong Khai train encountered a mechanical problem and stopped near Pha Chee train station for an inspection. The train then set up a signal along the train tracks, instructing oncoming trains to stop, Wuttichat said.
"But the Bangkok – Denchai train ignored the signal and crashed into the train, leading to injuries," the SRT governor said, adding that engineers are urgently repairing the train track around the collision site, which was also damaged. He estimated that the track could be re-opened later this afternoon.
Wutthichat said the collision caused at least 80 million baht in damages. It is not clear whether the drivers of the train have been charged of any crimes.
The governor pledged to fully compensate every victim of the crash.
The incident was the third of four train accidents to take place this week in Thailand, where all rail operations are owned by the state. In two separate incidents earlier this week, trains collided with vehicles at railway crossings in Trang province.

A train caught on fire in Ayutthaya province on 27 March 2015.
Today, a fourth accident took place in Ayutthaya province when a Bangkok – Denchai train suddenly caught fire near Pak Rad train station. The fire reportedly started at around 10 am, causing the driver to pull an emergency stop. More than 100 passengers fled the train, and no injuries have been reported.
Sorapong Paengmueang, an official from the SRT, said initial inspection reveals that the engine may have overheated. He said SRT has transported all of the passengers to the nearest train station to continue their journey.
The Thai railyway system is often criticized for frequent delays, outdated trains, and a high rate of accidents. In July 2014, the military junta expelled former SRT governor Prapat Chongsanguan from the post for allegedly failing to prevent a rape and murder of a 13-year-old girl by a SRT staff on an overnight train.