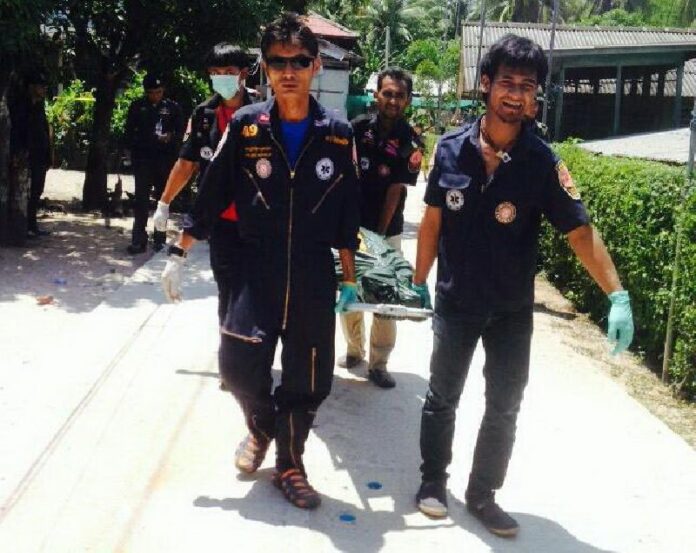 PATTANI — Security officers in the restive province of Pattani have reportedly killed a terrorism suspect connected to the car bomb that exploded on the popular resort island of Koh Samui last month.
The suspect was shot dead after he refused to surrender to security officers during a raid early on 2 May, said Pol.Gen. Somyot Pumpanmuang, commander of the Royal Thai Police.

Rescue workers carry dead body of Mahamasu Jeha, 30, from the crime scene in Pattani, 2 May 2015.
According to Pol.Gen. Somyot, more than 50 security officers surrounded a religious school called Darulbarakah School in Mueang district at around 2 am after they received reports that members of local separatist movement were gathering at the area.
Pol.Gen. Somyot said security officers spotted people moving inside the madras and shouted at them to surrender, but gunshots rang out from the school, prompting police and soldiers to return fire. After several hours of standoff, the gunfight died down, and security officers secured the school.
One person was killed in the shootout while two men were arrested, Pol.Gen. Somyot told reporters. The deceased was identified as Mahamasu Jeha, 30, who was wanted by the authorities on at least five arrest warrants for charges that include terrorism and arson. The other two arrested suspects were identified as Waesohoh Dolah, 30, and Suriya Taha, 29.
Pol.Gen. Somyot said Mahamasu was also being sought by police for his alleged connection those behind a car bomb attack in a mall on the resort island of Koh Samui on 10 April, which injured seven people, including a 12-year-old Italian girl.
The military initially blamed the bomb on "political groups" and arrested an activist affiliated with the Redshirt movement, which is largely opposed the ruling military junta. However, the activist was later released and the police has since shifted their focus to suspects in the Deep South, where an Islamic insurgency has been simmering for the past decade, but violence rarely occurs north of Songkhla province.
Approximately 60,000 security officers are stationed Thailand's southern border provinces of Pattani, Yala, and Narathiwat to combat insurgents seeking to revive the independent sultanate of Patani, which was incorporated into modern-day Thailand in the early 20th century.
More than 6,200 people have been killed since secessionist violence broke out in early 2004, according to data compiled by rights groups.
Col. Banpot Poonpian, a spokesperson of the counter-insurgency agency the Internal Security Operation Command (ISOC), told reporters yesterday that security officers were unable to to persuade Mahamasu and two other suspects to surrender peacefully.
"We have been instructed to proceed with careful deliberation and caution, in accordance with steps that escalate from minimal measures, to maximum," Col. Banpot said.
Wasin Samoh, director of Darulbarakah School, said in press conference today that the suspects were laborers hired by the madras administration to build a new prayer hall. He told reporters that he was not aware of the arrest warrants on Mahamasu, because the hiring process was overseen by a contractor.
"They had been building for two nights, then security officers raided the school," Wasin said. "The school didn't know that one of our construction workers had arrest warrants. We didn't know where the contractor hired people from, or who they are. We only found out about this after this unexpected incident happened."