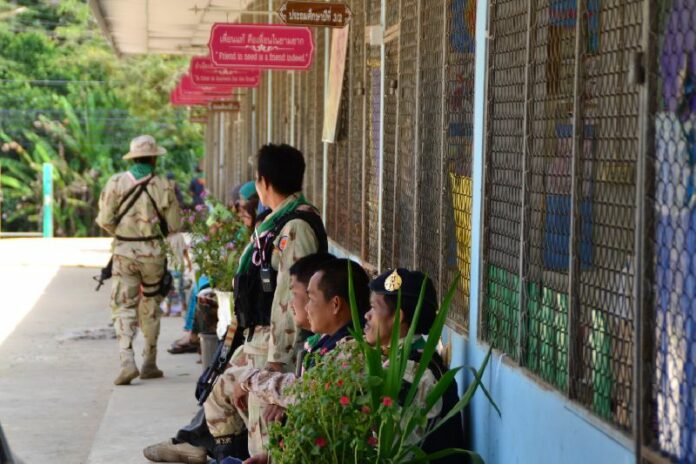 YALA — Police say Islamic separatists torched six motorcycles belonging to civilians in the southern border province of Yala last night.
The vehicles were burned across Than To district, where police also found what appeared to be fake explosives planted by the road. Police believe local insurgents organized the incidents as part of their campaign to cause "daily unrest" in the region.

One of six motorcycles set on fire in Yala province on 12 May 2015.
The southern provinces of Yala, Narathiwat, and Pattani have been a hotbed of separatist violence for the past decade, with a shadowy network of insurgents staging near-daily attacks in an effort to secede the region and form a breakaway Islamic state.
Although most of the estimated 6,200 casualties have died in bombings and shootings staged by insurgent groups, Thai authorities have also been criticized for using excessive violence and violating human rights in their effort to combat the secessionist campaign.
Damrong Deesakul, chief officer of Betong district, said security officers have been instructed to increase patrols around public schools, which are opening this month.
Schools and public teachers in the region are regularly targeted by insurgents, presumably because they are viewed as instruments of the Buddhist state. Nearly 200 school teachers have been killed since 2004, and many now travel with a large convoy of bodyguards and soldiers.
Last October, six public schools in Pattani province were set on fire in a coordinated arson attack at night. The buildings were severely damaged, though no one was killed or injured.
"Security officers, like armed village volunteer corps and rangers, and teachers and some parents will organize shifts to keep guard and maintain security around the school buildings," Damrong told reporters.
Experts say the insurgency is mostly fueled by ethnic and religious differences. While the vast majority of Thailand is predominantly Buddhist, the Deep South is mostly populated by Malay Muslims who speak a distinct dialect and trace their ancestry back to the sultanate of Patani, which was annexed by Thailand in early 20th century.