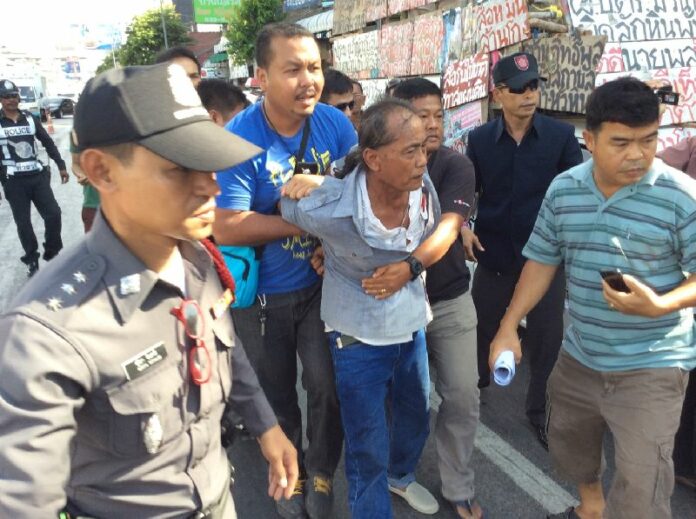 PRACHUAP KIRI KHAN — Police have arrested a 63-year-old man who decorated his pick-up truck with dozens of wooden signs criticizing bureaucrats and calling on officials to follow "His Majesty the King's teachings."
Most of the rambling signs accuse bureaucrats of corruption, and urge them to follow the teachings of King Bhumibol, Thailand's revered monarch. A sticker on the side of the car also demands authorities "return legal justice to Phra Thep," referring to Princess Sirindhorn, a daughter of His Majesty the King. Another sign condemned an unidentified "influence" trying to supersede the monarchy.

A car covered with signs criticizing local officials and urging them to follow the King's teachings, Hua Hin, 13 May 2015.
Police said they were forced to break into the truck and haul Khantichai Kampha out of his seat after he refused to get out of the vehicle in downtown Hua Hin.
Khantichai, a native of Petchburi province, refused to explain the signs, police said. He has been taken to Hua Hin Police Station for interrogation. Police said Khantichai was also distributing flyers with "inappropriate text," prior to his arrest.
The flyers, portraits of the King and Queen, and a one-meter sword were found inside Khantichai's car.
The monarchy is a sensitive topic of conversation Thailand, where criticism of the Royal Family is punishable by up to 15 years in prison under the country's draconian lese majeste law.