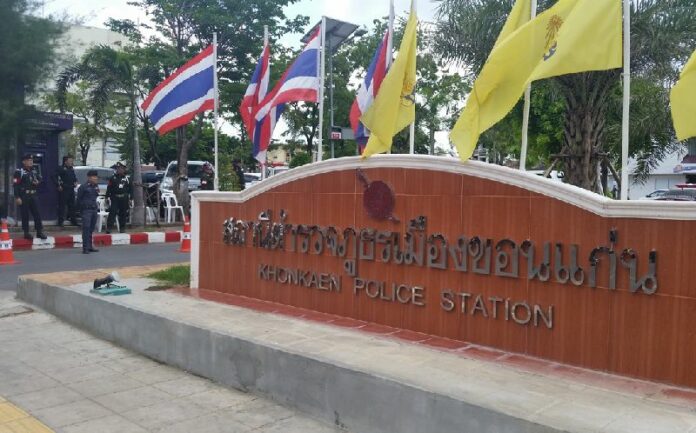 BANGKOK — All sixteen of the student activists recently charged with illegal assembly have defied police's orders to report to authorities today.
Nine students in Bangkok and seven students in Khon Kaen province were ordered to surrender to police by 3:30 pm today to formally hear their charges of violating the junta's ban on public protests. The students were charged after attempting to stage rallies in Bangkok and Khon Kaen to mark the first anniversary of the military coup d'etat on 22 May 2015.
However, none of the activists showed up their respective police stations in Bangkok and Khon Kaen today.
There was no immediate reaction from the Thai authorities, but officials have warned that a failure to surrender before the deadline would result in arrest warrants issued by military courts, which have been authority by the junta to prosecute anti-coup dissidents and other suspects in "national security" cases.
Col. Winthai Suvaree, a spokesperson for the junta, known formally as the National Council for Peace and Order, said yesterday that if the nine students did not surrender themselves by 19 June, their bond money would be forfeited, and arrest warrants would be issued. He warned that families of the students may also be summoned by authorities.
"Officials may consider inviting the guardians of the students to meet with police officers," Col. Winthai said. "I'd like to tell their families: please take care of your children. Do not do any action that violates the laws."
He continued, "These students have attempted to stage symbolic actions to incite conflict and unrest in society. They violated the laws and justice system. In the past, security officers have always compromised with them, but if they still do not understand, security officers are required to enforce the laws."
Prachatai news site reported that the seven students in Khon Kaen – who belong to the progressive student network Dao Din – said they will not report to police as a display of "civil disobedience." The students were quoted as saying that authorities are welcome to come and arrest them on their own.
"It will be quite funny if we go to jail and the people in prison ask us, hey, what landed you guys in here, and we tell them, oh, I was holding a banner," one of the students, Wasan Setsith, told Prachatai.
Earlier today, three other student activists were briefly detained after they placed signs bearing cartoon characters resembling the seven Dao Din activists at Democracy Monument in Khon Kaen. The trio was held for several hours at the 23rd Army District headquarters for "attitude adjustment" and later released without charges.
According to photographs of police documents that were posted by Kunthika Nutcharus, a legal advisor to the anti-coup students wanted by police in Bangkok, the group requested to postpone their meeting until 24 June, but police refused because they said investigative offices would not be available on that day.
"On 24 June 2015, investigation officers responsible for [your] case have an appointment and must perform important bureaucratic missions in other cases, and other investigation officers who hold upper and lower ranks also have appointment to perform their own bureaucratic missions, and cannot be arranged to interrogate you," read the letter, which was purportedly issued by Pathumwan Police Station.
Kunthika and other activists questioned the reason provided by police in the letter.
"This is very strange, because according to the laws, police stations are required to be staffed with police officers who can process [legal] cases," Kunthika wrote on Facebook. "If a rape suspect surrenders him or herself on 24 June 2015, will police tell the suspect to go home, don't surrender yourself yet, because no one can process your case today?"
CORRECTION
: A total of nine Bangkok-based students were wanted by police for organizing an anti-coup rally on 22 May 2015, not two, as the original article reported.